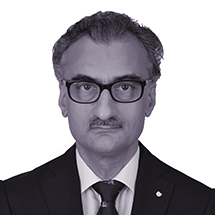 Further Information
Biography
Primary Position: Consultant Gastroenterologist and Chief Medical Officer
Place of work: Shaukat Khanum Memorial Cancer Hospital & Research Centre, Lahore
I graduated from the King Edward Medical College, in Lahore, in 1986 and went to the UK for postgraduate training thereafter. I qualified MRCP (UK) in 1991 and trained in gastroenterology. I returned to Pakistan in December 1994, joining the Shaukat Khanum Memorial Cancer Hospital & Research Centre, Lahore as a consultant gastroenterologist and a member of the commissioning team. I was elected to fellowship of the RCPE in 2000. I was the Medical Director of the hospital from 2004-2015, when I was appointed Chief Medical Officer for both our hospitals, in Lahore and Peshawar, overseeing all clinical activity and clinical quality at both sites.
I have been responsible for development of site specialisation and multi-disciplinary teams for cancer treatment, a robust system of 360-degree physician appraisal, clinical governance, a population-based tumour registry and for development of clinical quality indicators for the hospital, which are presented regularly to our governing board. I headed the commissioning team for our second cancer hospital, in Peshawar, which opened in December 2015.
I am a supervisor for postgraduate training in gastroenterology and continue to practice, my main clinical interests being in advanced pancreatico-biliary endoscopy and endoscopic ultrasound, on which I have published extensively over the last five years.
Cancer Care in the Time of Covid – A Perspective From Pakistan (9 April)
Background 
Pakistan – population 220M, 170,000 – 200,000 new cancer cases each year.
SKMCH&RC accepts close to 10,000 new cancer cases each year; 11% children.
From all over Pakistan, and from Afghanistan.
4,500 cases Covid-19 so far, 55 deaths, 25 in ITU.
Patchy social distancing measures, educational institutions, offices etc locked down.
Complete lockdown avoided for fear of total economic collapse.
Curtailment of normal services
SKMCH&RC, Lahore – 200 beds.
Converted an inpatient unit into a ward for patients with coronavirus, expanded ITU to 35 ventilated beds, by converting another inpatient floor.
Suspended intake of new cancer patients, elective surgery, endoscopy, screening activity. Emergency surgery, chemotherapy and radiation treatments continue.
Designated as one of the three national testing sites for Covid-19.
Radiology services continue to operate for inpatients and the ITU.
Continuing care for cancer patients
Virtual clinics in 16 specialities, so far, mix of WhatsApp video calls and voice calls. Details of investigations / prescriptions, sent to patients as a screenshot or by SMS.
Indigent patients may be unable to obtain medication for financial reasons or due to disruption of drug supply chains.
Treatments are having to be changed to reflect what is possible. Thus, sorafenib rather than TACE, for hepatocellular cancer, additional cycles of neo-adjuvant chemotherapy where surgery not currently possible, spacing out of chemotherapy cycles, abbreviation of radiation treatment.
A register of all patients whose treatment or follow up has been impacted is being maintained.
Economic impact
Significant drop in clinical income, normally derived from diagnostic services and pathology collection centre business.
Concern that charitable donations will plummet secondary to economic turmoil.
Reduced payroll costs by >10% by 5-25% salary cut for all staff. No staff have been laid off.
Clinical decision-making
SKMCH&RC has operated a triage system for > 25y to decide which cancer patients to accept for treatment, experience which has helped in developing decision-rules for allocation of ICU beds in the current crisis.
Conclusions
We are trying to balance our responsibility to our cancer patients with the need to help the wider community in the current fight against coronavirus.
Some of the challenges we face are common to health systems all over the world, but others are unique to our situation.
We need to start to model the downstream effects of delay in therapy for cancer patients as well as delays to cancer screening programmes.
All healthcare professionals need to use such data to advocate more forcefully for our patients in future and to allow us to argue more effectively for an equitable share of resources for all patients, so as to allow a return to full clinical function as soon as possible.