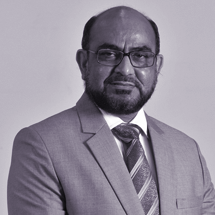 Pakistan - Karachi, Sindh and Baluchistan
Further Information
Biographical information
Professor Muhammad Tariq has worked as Vice Dean, Medical College, Aga Khan University, Karachi, since August 2022.  
He has been Professor of Medicine since 2017, served as Interim Associate Dean, Education, and Chair, Department for Educational Development, from 2015 to July 2022.  He served as Section Head, Internal Medicine from 2011-2017, Director of Postgraduate Programmes Medicine from 2008-2015 and Programme Director of Internal Medicine from 2001-2011, supervising both FCPS and MRCP candidates.
He graduated from Dow Medical College and successfully obtained MRCP(UK) in 2001 and was advanced to FRCP Edinburgh and London in 2010 and 2013 respectively.  He became a Fellow of the American College of Physicians in 2009.  He obtained FAIMER (Foundation for Advancement of International Medical Education & Research) Institute Fellowship from Philadelphia in 2011 and MHPE from Maastricht University Netherlands in 2014.  
He became Supervisor and Examiner for FCPS (Fellowship of the College of Physicians & Surgeons, Pakistan) in 2005 and 2012 respectively.  He is a supervisor and examiner of MHPE students.  
Professor Tariq has also been Global Faculty Project Advisor for FAIMER since 2017.  He became a Fellow of the Pakistan Society of Internal Medicine (FPSIM) in July 2021, and has developed and conducted comprehensive FCPS-II/ MRCP-II courses for 19 years.