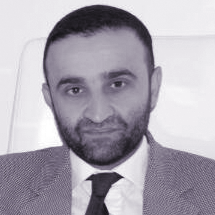 Dr Mudher Zaki Haddab Al-Khairalla
Middle East and North Africa
Further Information
I qualified in 2001 from Dundee University. I completed my training in Scotland to become a consultant in Respiratory medicine in 2009. I have had the privilege of training and serving the UK's National Health Service. I have also been fortunate to accumulate an interesting and rewarding four years establishing and advancing respiratory services in Iraq. I continue to be an active examiner on the MRCP PACES exams circuit.
I have successfully nominated colleagues in Iraq who have gone on to successfully attain the FRCPE. I have engaged in teleconference meetings with the RCPE president and senior office bearers to promote and plan potential college involvement in utilising the MTI programme, setting up local written MRCP and hopefully in the future, PACES exams in Iraq. I have had the opportunity to network in regions across the whole of Iraq. This has placed me in a great position to connect with influential people. I am currently in active clinical practice and regularly engage in undergraduate and postgraduate training. I continue to seek and participate in organising CPD events in Iraq.
Interest in health care reform continues to be on the forefront for most clinicians in Iraq. As a regional adviser for the RCPE, I would hope to enhance much needed reform.