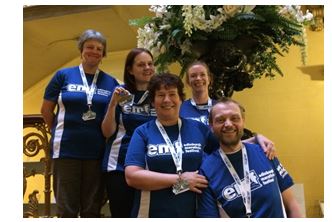 The College has worked to improve public health for nearly 350 years and promotes health and wellbeing for all. Our health and wellbeing group pursues a programme aimed at encouraging healthy lifestyles by promoting healthy choices.
The group considers topics such as obesity, tobacco and alcohol consumption, as well as promoting physical activity and mental wellbeing in collaboration with colleagues across the health sector. 
The College has worked in partnership with Ramblers Scotland to create a series of walking maps for visitors to the College to make the most of being in the scenic heart of Edinburgh. 
We also have a very active staff health and wellbeing group, which organises activities such a walking group; running group; pilates; book group; social events and charity fundraising.
Importance of physical activity
The UK Chief Medical Officers' expert group on physical activity has produced a series of infographics to encourage physical activity in adults and older adults, children and young adults (5-18 years old), and very young children (birth-5 years old). These tools are designed to help highlight the importance of physical activity and why it's important to be active.