Designatory Letters:
MB Madras 1946, MRCP Edin 1951, FRCP Edin 1961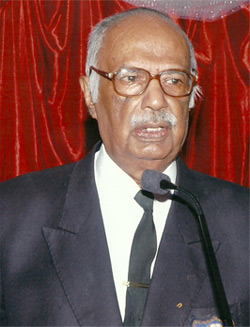 [Contributed by Professor Patrick Vesudian FRCP]
Dr Arthur S Thambiah died at the age of 87 years. He was an exceptional man and a pioneer in his chosen field of dermatology, not only in the state of Tamilnadu (formerly known as Madras), but even in the country. He, along with a few of his peers from other states in India, set the syllabus for the post-graduate courses in dermatology.
Born in January 2, 1924 to doctor parents, he had a brilliant academic career, both at school and at the Madras Medical College, where he was the recipient of many gold medals and merit certificates. His father, Dr S Thambiah, was the professor of medicine and dermatology in the same college, where his son won laurels as an under-graduate medical student. Both father and son later became Fellows of the Royal College of Physicians.
After graduation he went to Britain. His first intention was to specialize in cardiology, but circumstances including the death of his father in India, made him choose dermatology and he joined the post-graduate course at the St. John's hospital for Diseases of the Skin at London. He passed the M.R.C.P Edinburgh, with dermatology as his special subject at the first attempt in 1951, when he was just 27 years of age. He immediately returned to India and joined the Madras Medical Service at the same year. He then passed the Diploma in Venereology of the University of Madras in 1955 with commendation from the examiners. He returned to United Kingdom as a Colombo plan scholar between 1958-59 at the St. John's hospital, where he had trained earlier and had the unique distinction of being the first Indian to be appointed as Registrar of histopathology at the Institute. During his stay in London, he had the great privilege of working with the internationally famous dermatologist Dr. Arthur Rook at the Addenbrooke hospital with whom he kept corresponding till the latter's death.
Back home in India, he was appointed the first Professor of Dermatology at his alma mater, the Madras Medical College. He then started the post graduate courses in dermatology in 1966 and since then hundreds of dermatologists qualified under his tutelage. He made the subject of dermatology, which had no takers until then, into the most sought-after specialty in the state.
Many state-level, national and international awards and medals were heaped on him. He was elected Fellow of Royal College of Physicians, Edinburgh in 1961 and Emeritus member of British Association of Dermatologists in 1975. In 1999, he was the recipient of Gold Medal of the Royal College of Physicians for his services as Overseas regional Advisor from 1974-1998.
Here in India, he was given the prestigious B.C.Roy award under the category of Eminent Medical Teacher in 1978. He was the recipient of Doctor of Science (Hons) from two Madras Universities. The Indian Medical Association and the Indian Academy of Medical Sciences honoured him with gold medals and fellowships.
The real man, however, was much greater the sum of all the above awards and achievements. He remained a bachelor, because he felt that if he married he will not be able to dedicate himself fully to the task of building the skin department and teaching his beloved students. His daily classes to the post-graduates started sharp at 6.00 A.M in the mornings and at exactly 7.00 A.M, he would start seeing hundreds of patients with skin diseases who flocked to the department everyday. These were the poorest of the poor, the indigent and the beggars off the roads. All were treated with love and compassion. So he was most popular with patients, students and his staff members. His stimulating way of teaching reached a wider audience and I was one of the many to be drawn into his orbit.
He was a very religious person and could quote from the Psalms much better than many qualified theologians. Next to Christ, his favourite biblical characters were King David and the apostle Paul. He could narrate incidents from the two world wars and delve into the details of the British monarchy. He had a prodigious memory and even in his 80th year, could vividly recall incidents which had taken place in his childhood.
So, here was a man of high principles and true human compassion, a patron of dermatology who will always remain with those whose roads he crossed and whose lives he touched.
A Tribute to Prof Arthur Saravanakumar Thambiah, FRCP Edin. – " Teacher of Teachers".
[Contributed by Professor J Thomas on behalf of The Indian Society of Teledermatology which respectfully pays homage to the "Teacher of Teachers" - The World Renowned Doyen of Dermatology]
Born in 1924 to doctor parents, Arthur Saravanakumar Thambiah graduated from Madras Medical College, Chennai, India (the then Madras) in 1948 and pursued his post graduate studies in London, Cambridge, and Edinburgh. He was the first Indian to receive an MRCP (Edinburgh) in 1950. In 1961, he became the first professor of Dermatology Department, Madras Medical College, in his own Alma Mater and served as professor till his retirement from Government service in 1982. He continued his teaching even after his retirement.
He won several international awards and recognitions. He was elected a Fellow of the Royal College of Physicians of Edinburgh, Fellow of the Indian Academy of Medical Sciences, and elected Emeritus Member of the British Association of Dermatologists. The BC Roy award for Eminent Medical Teacher came in 1978. He was awarded an honorary doctorate by the University of Madras in 1985. Dr. Thambiah was an active campaigner against nuclear weapons and a member of the Physicians for Peace movement.
In Dr A S Thambiah, fondly called the father of dermatology practice in India, one sees a legendary teacher, a perceptive research scholar, and a fine caring gentleman.
He has left behind a huge family of dermatologists, who will tag along the legacy he embraced.