Specialty:
General and Public Health Medicine
Designatory Letters:
MB Glasg 1940, MD Glasg 1955, MRCP Edin 1957, FRCP Edin 1964, FRCP Lond 1979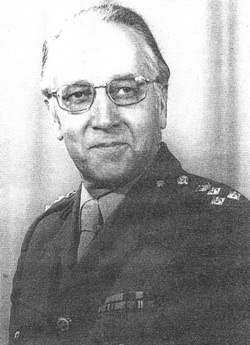 Robert MacFarlane had a distinguished and varied career after graduating from Glasgow University in 1940, working in Madagascar, India, Burma, Germany, Malta, Cyprus, the UK and for three years before his retirement in1988, back in Germany.
After 'house' jobs in Glasgow he joined the RAMC and was posted to 154 Field Ambulance, part of the 29th Independent Infantry Brigade. His first posting was to Madagascar which the Allies were determined should not fall into the hands of the Japanese who could use it as a naval base in the SW Indian Ocean. He found himself in malarial country with no mosquito netting, the only "insect repellent" a Vaseline and Citronella mixture, of no use whatsoever. Much of his time was spent treating soldiers with malaria, dysentery and dengue fever.
When the brigade moved to India he worked in the British Military Hospital in Delhi, then as MO at the Red Fort before moving to Assam in late 1944. In an area where all supplies, including food, had to be dropped from DC3s he escaped serious injury when a sack of bread missed his tent by inches. One serious injury he suffered was when he was accidentally shot through both calfs by a sten gun bullet.
Whilst serving in Malta he had to deal with a poliomyelitis epidemic and shortly afterwards, in 1952, he was made MBE. In 1960 he was in command of the Cowglen Hospital, Glasgow followed by the Army Chest Centre, Hindhead later becoming consultant physician at BMH Dhekelia, Cyprus, then from 1968-70 consultant at BMH Iserlohn.
He was appointed Professor of Military Medicine at the Royal Army Medical College and the RCP London, then consultant physician at HQ, BAOR before being appointed major-general, Director of Army Medicine and honorary physician to the Queen.
On retiring from the army he became deputy secretary to the Scottish Council for Postgraduate Medical Education in Edinburgh alongside Dr Parry who died on 30th October 2010. His wife predeceased him and he is survived by three sons.