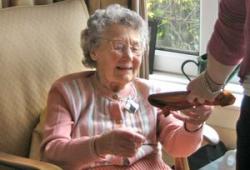 [Contributed by Alison Shaw]
Eileen Crofton was an indefatigable powerhouse of a woman whose pioneering anti-smoking campaigning made her a proud thorn in the flesh of tobacco firms and those who failed to see the correlation between the weed and the risk to women's health.
Along with her husband, she was a founding member of Action on Smoking and Health (ASH) and one half of a formidable partnership that made a huge contribution to public health and played a significant role in changing the tide of opinion, resulting in the smoking ban.
A distinguished doctor, researcher and writer in her own right, she also brought up a family of five, gave the first public lectures on smoking in Delhi and Brazil and became a respected historian in her retirement.
Born in Liverpool, the daughter of an electrical engineer, she was educated at North London Collegiate School and studied medicine at Somerville College, Oxford, graduating in 1943. She joined the Royal Medical Corps in 1944, becoming a captain and was posted to County Down where she met John Crofton.
Their marriage, in December 1945 after they were demobbed, marked the start of a symbiotic, 64-year partnership, in which they supported each other professionally and personally, becoming an enormously productive team. He was knighted for his pioneering work on TB control and she was awarded an MBE on her retirement from ASH Scotland.
Like most women of her age, her career took a back seat in the beginning. She worked from 1946 to 1949 as a part-time clinical assistant at the Brompton Hospital, London and had her first three children - a son and twin girls - between 1947 and 1950.
They moved north of the Border in 1952 when her husband was appointed professor of tuberculosis and lung disease at Edinburgh University and two more children followed in the next two years.
While continuing to raise the family and support her husband's work, she was appointed county medical officer of the Midlothian branch of the British Red Cross Society in 1963, later being awarded life membership for exceptional service and appointed honorary vice-president of the branch in 1973.
During that decade she was an honorary research fellow in Edinburgh University's department of respiratory diseases and produced various publications, including reports on mortality from lung cancer and bronchitis, the influence of smoking on mortality and the social effects of chronic bronchitis.
In 1971 she helped to establish Action on Smoking and Health, under the auspices of the Royal College of Physicians. Two years later ASH Scotland was inaugurated with Dr Crofton appointed its first director. She described it as "a very small affair", initially involving only herself and a typist for two sessions a week.
Housed in the top library at the Royal College in Edinburgh's Queen Street it later expanded to a beautiful Adam room on the ground f loor. During her time in charge, she insisted that all materials were produced to the highest standards of accuracy and evidence and always delivered her soundly-based arguments with courtesy.
Appointed to the World Health Organisation's expert committee on smoking, she consistently worked both at home and abroad to raise awareness of the harm caused by the habit and to campaign for increased tobacco regulation.
The secret was "keeping it in the public eye", she said, continuing to make speeches, lecture about smoking and campaign for a ban long after retiring and receiving the MBE in 1984 for services to public health.
She took part in two world conferences on smoking and health, one in Japan and the other in Winnipeg and before retiring she had been spurred on by Dr Bobbie Jacobson's 1981 book The Ladykillers: Why Smoking Is A Feminist Issue.
With her particular interest in women's health and tobacco, she was instrumental in setting up the ASH women's committee in 1984 and served as convenor until 1991. She worked diligently to demonstrate to medical and other organisations that tobacco was becoming as important a health issue for women as it was for men and the committee later developed into the International Network of Women Against Tobacco.
She also became an author during her retirement, writing the critically-acclaimed Women of Royaumont: A Scottish Women's Hospital on the Western Front. Its genesis was in a European Medical Association meeting on smoking she attended at Royaumont Abbey, north of Paris, in 1990.
Having discovered a plaque commemorating the use of the abbey as the base for the Scottish Women's Hospital during the First World War, she returned home and began researching. Her book tells the story of the work and devotion of the hospital's staff, headed by Edinburgh Dr Elsie Inglis.
Published in 1997, it turned Lady Crofton into a respected medical historian, giving lectures on the subject around the UK, and sparked the possibility of turning it into a film.
Two years ago, in honour of the decades of tobacco control work done by both her and her husband, the Royal Environmental Health Institute of Scotland in partnership with ASH Scotland, launched the Crofton Award, which recognises the achievements of young people in reducing tobacco and smoking-related harm in Scotland. The inaugural awards were presented in November last year, the month she was widowed.
And only last May her struggle to free women from the health burden of tobacco was honoured on International Women's Day with the publication of Notes On A Beginning, her personal account of the women's committee of ASH.
She is survived by her children Richard, twins Patricia and Pamela, Alison and Ian, 11 grandchildren and two great-grandchildren.
This obituary first appeared in The Scotsman newspaper and is reproduced here by kind permission of the Obituaries Editor of The Scotsman to whom we are much indebted.