Specialty:
Librarian RCPE 1966 - 1994
Designatory Letters:
MBE 1997, FRCPE 1991, MA 1951, ALA 1954
(Contributed by Iain Milne, College Librarian)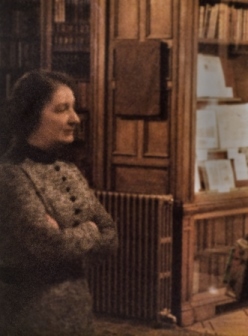 Joan Primrose Scott Ferguson was born just over 84 years ago on the 15th of September 1929.
Her parents William and Janet Ferguson lived at Clarebank Crescent in Restalrig.  Clarebank Crescent was close to William Ferguson's work in the Baltic grain trade.  William was an elder in the Glasite church and the Ferguson family attended services in the Glasite Meeting Hall in Barony Street. Joan was an only child and the long Sunday services (which included a communal meal) played a big part in her life. Joan attended school at George Watson Ladies College and she remembered the school moving from George Square to Colinton Road during the Second World War.  After school Joan studied for an MA degree in Scottish History at the University of Edinburgh.
After graduating in 1951 Joan went on to take a secretarial course.  In 1952 she became the secretary to the Librarian of the Scottish Central Library situated in the Edinburgh Lawnmarket.  In the 1950s and 1960s the Scottish Central Library (now part of the National Library of Scotland) hosted the Scottish Union Catalogue and acted as Scotland's main inter library lending resource - it was a vital information transfer link in pre internet days.
While at the Scottish Central Library Joan studied for a library qualification and in 1954 she passed the Library Association professional exams and became an Associate of the Library Association.  Professional qualification led to promotion and Joan became the Chief Assistant in the Lawn market building.  Joan's duties included updating and compiling the card list of Scottish family histories and in 1960 her first book (Scottish Family Histories held in Scottish Libraries) was published. This book was important to genealogists and Joan was an obvious choice when a Scottish Central Library representative on the Scottish Genealogy Society was needed – this was the start of a long association.
In 1966 Joan became the Librarian of the Royal College of Physicians of Edinburgh. In the 1960s the RCPE Library was a modern medical library and its core business was supplying up to date information to the fellows and members of the College.  It was central to College activities. Miss Ferguson quickly became invaluable - not easy in (what was then) a very male environment and especially difficult when following on from two influential male librarians (Jolley and Pendrill) who later took up major positions in Australia and Canada.
There were many Royal College of Physicians of Edinburgh achievements (Joan had a real customer service ethos which is not shared by all librarians) but Miss Ferguson might single out her contribution to Professor W S Craig's monumental 1100 page History of the Royal College of Physicians of Edinburgh.  Without Joan's knowledge of the primary material and her impressive editing abilities this invaluable work of scholarship might never have been completed - particularly as Professor Craig died before its publication.  What is also remarkable is that despite Professors Craig's unexpected death the book was actually published early rather than as scheduled to coincide with the College's Tercentenary celebrations.  Joan played a major role in planning and organising the 1981 Tercentenary.
Miss Ferguson had a knack of getting on with people and she was especially friendly with another influential member of the RCPE staff, the College Cashier Marjorie (Maisie) Lownie.  These two had some adversaries and there were long term (and frankly very entertaining) battles with a succession of College Bursars and College Officers who were guilty of "letting standards slip". Joan and Maisie almost always won.  Miss Ferguson loved attending College dinners and as Miss  Lownie was in charge of the seating plans she was always assured of entertaining dinner companions. Joan was very friendly with her counterpart  the Librarian of Royal College of Surgeons of Edinburgh, Dorothy Wardle who she regularly met for Thursday night suppers at the University of Edinburgh Staff Club.
Joan's interest in history ensured that she planned for the needs of future historians and she did an immense amount of behind the scenes conservation work which has greatly extended the life of the College's collection. Shortly before her retiral in 1994 the Royal College of Physicians of Edinburgh showed their appreciation for her hard work by making her a fellow of the College - there are few non-medical fellows. She served under seven Honorary Librarians, William  Alister Alexander, JDS Cameron, Sir Ian Hill, Chalmers Davison
Bryan Ashworth, Andrew Doig and David  Lawson.
In the 1980s Joan also found time to publish more books – in 1984 the Directory of Scottish Newspapers and in 1986 the revised, expanded edition of Scottish Family Histories. She was also a contributor to the Companion to Scottish Culture and a member of the Scottish Records Advisory Council from 1987 – 1993. Joan was secretary to the Scottish Genealogy Society and for many years; she hosted council meetings in her home before the S.G.S. had premises. She was influential in the set-up of the SGS library. The Society was very grateful for the time and resources she freely gave and her M.B.E. (which was awarded in 1997) was for services to genealogy. She had significant genealogical research talent herself and traced her own Scott ancestry back to 1775.
Miss Ferguson had many friends outside work, she played a big role in passing on the historic Glasite Meeting Hall to the Scottish Historic Buildings Trust, she attended concerts at the Usher Hall and she was keen on gardening. Joan took annual holidays in Iona, which always seemed to involve surprisingly perilous car journeys - Joan was not a natural driver indeed she didn't really fit into the computer age.  Miss Ferguson was from an analogue era and her large office was a celebration of paper based research. It could appear surprisingly disorganised with books and archives piled everywhere but Joan knew where everything was thanks to her remarkably good memory which sadly quite quickly deserted her after a long period of happy retirement. Her last years were spent as a very well looked after resident of Laverock Care home in Trinity. Joan never married and since the 1950s had lived in Howard Place with her parents.  Her father died in 1985, aged 88 and her mother died in 1994, aged 91.