Specialty:
General/Internal Medicine
Designatory Letters:
MB Glasg 1945, MRCP Lond 1949, MD Glasg 1961, MRCP Edin 1962, MRCP Glasg 1966, FRCP Edin 1968, FRCPSG 1969, FRCP Lond 1972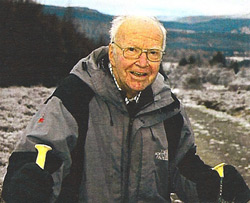 A pioneer in research into coronary heart attacks.
A more committed professional than Bill Fulton is really hard to find. Bill, who died aged 91 in December 2010, was a most scrupulous and precise observer ofclinical medicine and pathology. He delighted in his discoveries and exemplified the accuracy of a teacher of his generation. He was excited, particularly by his innovative studies of the coronary arteries of the human heart, and transmitted this excitement to those who had the good fortune to work with him. Few leave such rich ideas and original observations - now quoted world wide. It was Bill Fulton, when working in 1953/4 with the coronary research team at the University of Edinburgh, who first used coronary stereoarteriography to relate selective histopathology to clinical events. Using radioactive fibrinogen, he demonstrated that coronary thrombosis precedes the develop of an acute heart attack or myocardial infarction. This was not the orthodox thinking then and his concept was not immediately accepted. Yet the evidence was based on meticulous data and was irrefutable. He was slow in his projects, always gathering together all the data necessary to support his concepts and, remarkably, he personally drew all the many illustrations in his outstanding and original book of 1965. It was largely a result of his work that rapid treatment with thrombolysis - now a routine - was established for patients having an acute heart attack . By 1967, his original observations were widely recognised - leading to many international lectures and landmark publications.
Fulton qualified in medicine at Glasgow University in 1945 and did his National Service as a ship's doctor with the Blue Funnel Line. Following his short stay in Edinburgh, Fulton went to the Johns Hopkins Hospital in Baltimore where he studied with two eminent cardiologists, Helen Taussig and Richard Ross. From 1967 to 1972 he was the Foundation Professor of Medicine at the University of Nairobi. Returning to Stobhill Hospital in Glasgow, he established the Cardiology Service and a Coronary Care Unit. He was elected a Fellow of all three Royal Colleges of Physicians - London, Glasgow and Edinburgh.
The son of a Professor of Divinity, he was educated at Bryanston School in Dorset and the University of Glasgow. He was the most courteous of men and a delightful conversationalist. He had a rare gentle humour and would chuckle wisely, often with a literary commentary, but never at the expense of others. He was a thoughtful and responsible physician who took time. A man who was always engaged with his patients and friends. He had little patience with artificially imposed time limits and, of course, his patients took precedence over bureaucrats. He would be pleased to see that many of them are now being weeded out!
Bill Fulton died at his home in Braemar. He had a wonderful family which meant much to him. He is survived by his wife, Dr Frances Fulton, and a son and a daughter.