Designatory Letters:
MB Punjab 1949, MD Punjab 1952, MRCP Edin 1958, Fellowship 1982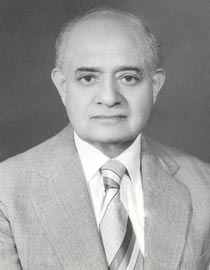 (Contributed by his daughter S. Ahmad)
Dr Mian Mohammad Siddique MBBS. Pb, MD. Pb. FRCP Edin. was born on 12th May 1919 in Ludhiana (India) and died on 4th January 2006 in Lahore (Pakistan).
He was a man known for his professionalism, honesty of work, humility, discipline, patience, stern but good nature and good manners.
He did his LSMF from Amritsar (India) and joined the army as a captain, then served on the Burma front in World War 2. He moved to Pakistan to continue his studies, taking his MB.BS. from King Edward Medical College, Lahore in 1948. Thereafter he worked as a demonstrator in the Biochemistry and Physiology Department before taking his MD from Punjab in 1952 and was the first to use an ECG machine in KEMC. He got a scholarship from the Colombo Plan and went to Canada to train in cardiac catheterisation in London, Ontario. Later he did his MRCP Edinburgh and then worked in Sheffield.
After a short time back in Pakistan he went to Riyadh on a one - year contract. This was a turning point in his life. He stayed not one year but 24 memorable years in Saudi Arabia under the rule of four kings. He rose to the pinnacle of his profession, becoming Head of the Cardiology Department in the Central Hospital, Riyadh and personal physician to King Khalid. Twice he politely refused the King's offer of Saudi nationality offered to him.
His motto was " One should live for name and fame and enough money to live respectably." He achieved it.
May God bless his soul.