Specialty:
General Internal Medicine
Designatory Letters:
MB Edinburgh 1960, MRCP Edinburgh 1963, FRCP Edinburgh 1971, OBE 1992
(Contributed by John Cash FRCP Edin)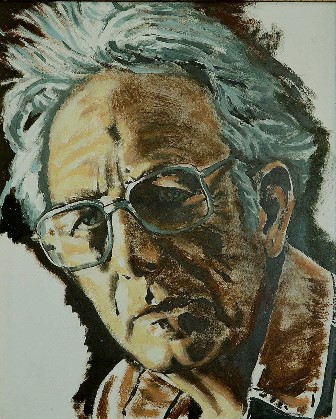 In a letter to the College, dated 19 December 1970, supporting John Munro's advancement to the Fellowship, Dr James Robson wrote: 'Dr Munro's high professional and sterling personal qualities were immediately obvious when he joined us in the Medical Renal Unit in 1961.  Even then he tended to exhaust himself over the care of individual patients and I know that since his appointment as consultant to the Eastern General Hospital he has shown a devotion to his patients beyond the call of duty'.  Nothing was to change.
John Forbes Munro, the son of an eminent Civil Servant, was born in Edinburgh and spent much of his early days in India and Edinburgh. The family finally settled in Essex and John attended Chigwell School, an outstanding educational institution in which high priority is given to the moral and spiritual development of its pupils.  It was perhaps then of no surprise that John, having originally elected to read history at Oxford, switched at the eleventh hour to read medicine at Edinburgh University, with the specific intention of becoming a medical missionary: a decision that was of some concern to his father but would have been of interest to his distinguished grand-father, the Reverend James Lorimer Munro, Minister of Mayfield United Free Church of Scotland, Edinburgh
But John's medical education was delayed because of the demands of National Service.  He joined the Royal Army Medical Corps and trained as a physiotherapist.  By the time he had completed his National Service he had lost his Faith, but acquired an empathy and passionate commitment for the health and welfare for those less privileged than himself.  Moreover, after working for two years in a strictly hierarchical environment, he had developed a tendency to challenge those whom he believed abused their authority.  He left the military with a disregard for uniforms – which later translated to the clinician's traditional smart dark suit and tie.  Despite the fact that he came to the Edinburgh Medical School with no scientific secondary education, he graduated with honours in 1960.  His postgraduate development was rapid and much influenced by Sir Derrick Dunlop, Dr Lindsay Lamb, Dr Leslie Duncan, Dr James McCash Murdoch, Dr James Robson and Dr Anne Lambie.
For those who had an understanding of John's background it made sense that, as he searched for a consultant physician post in 1969, he would reject the option of an appointment in the prestigious Royal Infirmary and Western General Hospitals in favour of the Eastern General and Edenhall hospitals – run-down neglected institutions which were of little interest to the Edinburgh medical establishment or the rapidly expanding Medical School.  Thus it was that, hidden away from the potentially disruptive influence of medical politics, John set about building a patient centred medical unit team which in terms of professional excellence and commitment to high quality care was to become a major force in Edinburgh.  He insisted that he was but one member of a team and that the team was inclusive. He characteristically expected the fullest engagement of all doctors, nurses and other professional colleagues.  The subsequent demands on these colleagues were at times substantial and exhausting.  He never tired of conveying gratitude for the senior members of this team which at various times included Dr John Nimmo, Dr Alex Proudfoot, Dr Roger Kellet, Dr Mike Ford and Sisters Jeanie Reid and Liz Shaw.  He promoted the concept that the patients' management should always be seen in the context of their families and set aside one evening a week to talk to patients' relatives.  He insisted that teaching should be a major function of the Unit as he believed it had a direct influence on maintaining the quality of patient care and thus was a mandatory component of the work of any hospital doctor.
Within a very short time the impact of the Eastern General and Edenhall Hospital's Medical Unit on the quality of patient care in the community it served became evident to all.  The team enjoyed much support from local general practitioners and John was soon to persuade the Health Board that they should invest in new building, both at the Eastern General and Edenhall hospitals.  Moreover, the Unit rapidly became a major magnet to medical students and young graduate doctors in training.  The competition for access to this unique teaching resource was fierce.  Many were unsuccessful and as a consequence John established free extramural teaching sessions for UK and overseas based doctors, primarily to assist those intending to sit the MRCP (UK) examination. The impact on those who were exposed to the Munro teaching magic is still in evidence today and his enthusiasm for, and joyous addiction to, the practice of medicine proved to be contagious.  His influence on the practice of clinical medicine in the wider world was also assured as a consequence of editing Macleod's 'Clinical Examination' (7th – 10th Editions) and 'A Manual of Practical Procedures'.
John did much to support the administrative management of health services in East Lothian.  He served as Chairman of the Eastern General Hospital Medical Committee, Chairman of the North Lothian Division of Medicine, Medical Director of the East Lothian Directly Managed NHS Trust, Non-Executive Director of the East and Midlothian NHS Trust and was Chairman of the Lothians NHS Medical Audit Committee.
John Munro began his long and at times turbulent 'love affair' with the Royal College of Physicians of Edinburgh in 1982 when invited to serve on the Geriatric Medicine Committee.  His first insight into the workings of the College began in 1985 when elected to Council.  But it was in May 1993 that the most significant development occurred: President Tony Toft persuaded him to take on the post of College Registrar – a function, in this College, exclusively directed towards the College's contribution to validating postgraduate medical training and most notably the running of the MRCP (UK) examination.  He served as College Registrar with distinction from May 1993-March 1997.
In the period during the last months of Tony Toft's Presidency John began to explore delivering a dream shared with Tony Toft – widening access to the MRCP (UK) examination, by taking it abroad.  But as he began this he became aware there was increasing concern, which had first surfaced in 1990, that the MRCP (UK) examination process was out of date and not fit for purpose.  This view had been strongly rejected by the London College, following advice from its formidable Registrar, Dr David Pike. Nonetheless the three Colleges responded by establishing an MRCP (UK) Review Committee.  In 1994 this Committee reported to the three Presidents and advised that there was no need to change the examination process.  This outcome was of serious concern to both John Munro and the Council of the RCPE.  The RCPE Council concluded that the transition from the days of separate College Membership examinations to the single intercollegiate (UK) examination had not, in terms of its governance, been best planned.  The RCPE therefore established its own review of the examination and invited Dr Munro to use his influence with his London and Glasgow College colleagues to promote change.  This proved to be a daunting challenge: more than ever before his natural instinct to challenge authority had to be managed carefully.  But this challenge was eased when soon after he was invited to Chair the newly created MRCP (UK) Policy Committee he befriended two key players (David London [RCPL] and Ken Cochran [RCSPG]).  Led by John Munro this redoubtable trio, with the support of many others, brought substantial change which included a distancing of the MRCP(UK) examination process from intercollegiate sensitivities, the engagement of ongoing, independent and expert professional educational advice, and sweeping changes in the structure and function of the MRCP(UK) examination process itself, primarily directed to enhancing objectivity and fairness of examiners and the breadth of individual candidates' assessment.  The major changes in the examination process included the standardisation of the marking of the Part 2 Written scripts, detaching the Part 2 Written Paper marks from the Clinical Examination which itself was transformed into an OSCE style exam of PACES requiring the independent marking on each candidate by 10 examiners.
As it became evident that the MRCP (UK) examination was returning to its former excellence, John moved with more confidence to develop arrangements which gave greater opportunities for access to the examination.  He triggered a development which ensured there was an increase in the number of centres in England and Wales in which the clinical examination took place and pioneered, with Dr Ken Nelson, the introduction of the clinical examination in Northern Ireland.  Of no less importance was the expansion of the examination overseas –including Malaysia, Singapore, Kuwait and Oman, an exercise which he believed was of much value to the local candidates and their families and to ways of enabling Fellows in these countries to feel they were directly engaged in a central function of their College.
The establishment of a Royal College of Paediatrics and Child Health proved to be a painful development for the Royal College of Physicians of London.  It followed that the transfer of full responsibility for the MRCP (UK) examination in paediatrics to the new College required considerable sensitivity and diplomacy.  John represented a College which had given strong support for the establishment of the Paediatric College and many were grateful for his sensitive contributions to what was to become a highly successful and complex transfer process.
When asked what were his best memories of being the RCPE Registrar he had no hesitation in responding – 'working with a wonderful team of College staff led by Mrs Lindy Tedford'.  But his proudest moment was arguably when he was awarded the College's prestigious Cullen Prize which is awarded to a Fellow of the Royal College of Physicians of Edinburgh who has made 'the greatest benefit to the practice of medicine'.
John served the College in many other ways.  He was a Trustee from 1997 – 2006, and Chairman of the Standing Committee for Health and Education from 1987-1997.  He represented the College on the BMA General Council and the Board of Governors of Fettes College. He was a board member of the Myre Sim Charitable Trust.
John used to enjoy telling his colleagues and friends that he was just a simple jobbing physician and had spent a life time far from the world of academia.  The truth was otherwise.  He had a distinguished research record, primarily directed towards the clinical management of obesity.  He published extensively and acquired an international reputation in this field.  He was on the Editorial Board of the International Journal of Obesity and was one of the first clinicians to report on the clinical efficacy of jaw wiring, abdominal banding, total starvation, low calorie diets, jejuno-ileal bypass surgery, gastric surgery and a comprehensive range of anti-obesity drugs.  He was proud of his contributions to the work of the Edinburgh Medical School, having served two terms on the Faculty of Medicine and its influential Undergraduate Medical Education Committee.  But his first love was teaching, which he regarded as an academic occupation, and in this critically important arena he emerged as a rare charismatic communicator who influenced the clinical practice of countless doctors, worldwide.  It came as no surprise to many, but he was much moved, when on his retirement Edinburgh University made him an Honorary Fellow and then appointed him a Clinical Teaching Fellow, which enabled him to continue undergraduate bedside teaching until 2002 – a period spanning over 40 years!
It is still a mystery how John began what was to become a lifelong passion for pictorial art.  Certainly he recalled how his father encouraged him to visit Art Galleries and Museums.  Then it seems likely that his school had some influence.  More certainly, however, is that John and his wife Jeannie used to go regularly in their early married life to the painting exhibitions on the old Scotsman Office steps.  It was a rare opportunity for them to relax together and on occasions to purchase a painting.  But their purchases characteristically led them to explore where they came from: a journey which took them to Scottish Art Colleges and their graduating students.  Both John and Jeannie were concerned at the difficulty young artists had to make a living and resolved to help contemporary Scottish artists where they could.  They began by offering a young artist (Philip Braham) their attic as a rent free studio.  This gave John an opportunity to watch and listen and later to enjoy Philip's developing international reputation.
John then turned his attention to supporting contemporary Scottish artists in the environment in which he worked.  Suddenly the vast bleak empty walls of the Eastern General Hospital were a potential repository for the work of these young artists.  He devised a system in which artists were encouraged to offer paintings to regular hospital exhibitions.  Thereafter, the hospital staff and patients were invited to vote on which they thought was best and these were purchased by the hospital, usually from funds donated by pharmaceutical companies.  In the period he was College Registrar he turned his attention to ways in which the College could support contemporary Scottish artists. Two developments emerged: the commissioning of 4 past Presidents' portraits and persuading Council to reintroduce the practice of promoting future Presidents' portraits.  He developed an annual College Art Exhibition which brought pleasure to many art lovers and incomes to both the artists and College sponsored charities.  The assistance of Lindy Tedford and her Examination Department team proved crucial to the success of these College developments.  Dr Munro donated 3 paintings to the College, the most notable of which are 'Catacomb' and 'Noli Me Tangere', both by Ian Hughes.
Many artists based in Scotland have cause to be grateful for John Munro's support over the years.  Lynn McGregor, who now enjoys an international reputation, has recently had an exhibition of her new work which she dedicated to 'the memory of Dr John Munro'.  Dr Xanthe Petrie donated an Ian Hughes' portrait of John which is now displayed in the Conference Centre foyer.
I have a recent memory of spending many happy hours, chatting with John around the kitchen table at Backhills.  Jeannie was usually there to ensure we were well supplied with coffee but more importantly to ensure our banter did not get totally out of hand.  On another occasion, as John and I examined his much loved vegetable garden, I asked him: 'of all the things you have done in your life, what ranks the most important to you'?  Standing in his wellingtons which had long past their best, sartorially resplendent in patched old baggy trousers and that famous disintegrating sweater and holding a large Savoy cabbage he replied without hesitation: 'finding and marrying Jeannie, having three wonderful daughters who have given us six much loved grandsons.  You see Cash, all the other stuff was, by comparison, incidental'.