Specialty:
Public Health/Community Health/Epidemiology
Designatory Letters:
MB Edin 1939, MFCM 1970, FFCM 1973, FRCP Edin 1973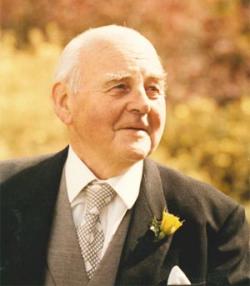 (Detailed information kindly supplied by Mr Alistair Campbell)
The recent death of Dr Ian Campbell will bring back many different and vivid memories to his countless friends, most of whom will be much younger than him for he died in his 93rd year.
Those who knew of him as a boy in the NW Highlands of Scotland will recall his catching his trout when only 3, or of his first salmon when 8 years old, in the same year as he became a junior member of the golf club where his mother was ladies' captain and his father men's captain. His Edinburgh University friends may recall his academic prowess (leading to graduation in 1939) but more likely his playing rugby, football, golf, tennis, hockey and shinty (when he captained the first team) for the university. Is it any wonder that he opted to return to his beloved Highlands as a GP hoping that there might be time to indulge himself in his sports.
That was not to be. Even as he was playing golf he saw the entire Atlantic Fleet sailing to war declared two days later. His offer to serve in the RAMC was initially turned down so he worked in Bradford until called up and serving for almost a year in training and fitness camps before being selected for special services training with beach and cliff landings under live fire and explosives " to toughen up the men" – all in preparation for the D-Day landings in June 1944.
He was told that when he landed in Normandy he was to make his way to a particular spot on the beach where he would meet a priest. On cue this happened and he was taken to a village hall scrubbed clean by French nurses, and there he established a casualty station. Two weeks later they were moved to the Chateau de Vaux at Graye-sur-Mer looking after 1,400 casualties at a time.
From there he was moved to Brussels, then on to deal with casualties from Arnhem and the Ardennes, before finally treating some of the survivors of Belsen. He loved to recount how delighted they were with the well-stocked cellars, most of whose contents were, of course handed on to military stores minus an appropriate percentage for his staff. Now a Lieutenant Colonel he was posted to Palestine to curb terrorism. He re-entered civilian life in March 1946, returning to St Luke's Hospital, Bradford as Superintendent as the NHS was born
From 1949-1957 he was based in Harrogate, serving as Assistant Senior Medical Officer at the Leeds Regional Hospital Board – an ideal posting for him because he could play hockey for Bradford, golf at the Pannal Club, enjoy shooting on the Yorkshire Moors and enjoy his appointment as Club Doctor to Bradford Northern Rugby League Club. Perhaps the only sport at which he did not excel, yet thoroughly enjoyed his brief experience of, was skiing. He and his dear wife went to St Moritz. Twisting his knee did not prevent him partying and after singing live on Swiss radio at midnight on Hogmanay in a St Moritz hotel they returned to their own hotel by sliding down the Cresta Run on their backsides.
A brief record such as this might make give a totally wrong impression of him, as someone more committed to enjoying himself and his sports than making a mark in his chosen profession. Nothing could be further from the truth. His return in 1957 to the city where he graduated- Edinburgh, culminating in his role as Chief Administrative Medical Officer, S E Scotland Regional Hospital Board, later to be Lothian Health Board gave him the chance to exercise his outstanding skills of organisation, administration and gentle leadership. This latter quality had to be seen to be believed. He seemed always to know what help someone might benefit from, how best to guide them without appearing to do much, and always gave credit and praise where it was due, often at the same time denying that he himself had done anything. His work with WHO projects took him (and his wife Joan) to Baroda, Bangalore, Agra, New Delhi and Jakarta.
His appointment as Queen's Honorary Physician (QHP) brought him much pleasure and laughs as when a friend wrote to him saying " Congratulations on your appointment. God Save the Queen."
In retirement he became Treasurer of the Royal College of Physicians of Edinburgh, a job probably as difficult as any he had held before, and served as a Trustee for many years, as well as guiding the fund-raising for the College's new conference centre. Another venture into which he flung himself and all his quiet energy and skill was St. Columba's Hospice, Edinburgh – offering himself as a listening ear, making his lifetime experience available whenever it was needed, and always acting with consummate modesty and humour. To this day his colleagues and friends in the College still marvel at his memory, his anecdotes, his jokes, his kindnesses and his gentleness.
Joan predeceased him but his family, like those in the College will long treasure the memory of them both, a devoted couple and loving parents and grandparents.