Designatory Letters:
MB Aberd 1959, MRCP Edin 1963, FRCP Edin 1974, FRCP Lond, 1981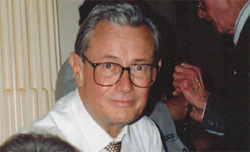 [Contributed by Milne Anderson and Alasdair Geddes]
Gavin Jamieson attended Aberdeen Grammar School and from there went to study medicine at Aberdeen University, graduating in 1958.
He trained in general medicine at Aberdeen Royal Infirmary and spent three years as a neurology registrar at the Midland Centre for Neurology and Neurosurgery at Smethwick in Birmingham. He was then appointed as a senior registrar and lecturer in neurology in Dundee.
He returned to Birmingham in 1967 as a consultant neurologist to the West Midlands Regional Health Authority. By today's standards his work load was immense. He undertook six out-patient clinics a week in up to eight hospitals spread around the Midlands, from Good Hope Hospital in the north to Worcester in the south. In Birmingham he worked at the Midland Centre for Neurology and Neurosurgery, the Eye Hospital, Dudley Road Hospital (now the City Hospital) and, latterly, at the Queen Elizabeth Hospital. He had wide experience of all aspects of neurology, something which is impossible for one individual to obtain today. His duties are now covered by up to six neurologists.
Gavin was a first-class clinical neurologist. He had an unusual ability to elicit obscure physical signs and to make complex diagnoses, in the first half of his career without the assistance of brain scans.
His itinerant practice and teaching commitments left little time for research. However, he had a research interest in migraine for which he obtained a major grant which inter alia supported a PhD and an MD post-graduate student.
Gavin was an able teacher of medical students and a mentor to many of the current consultant neurologists in the West Midlands.
He was proud of his Scottish heritage and was President of the Aberdeen University Club in the Midlands and Secretary of the annual Scottish Universities Ball Committee. He attended the College's St Andrew's Day Symposium regularly for many years.
Gavin's Aberdonian wit and sense of humour, much appreciated by his colleagues, attracted a wide circle of friends.
He leaves a wife, Ros, a child psychiatrist, three children - Mandy, Tony and Andrew - and grandson George.