Specialty:
Paediatrics/Community Child Health
Designatory Letters:
MB Cape Town 1956, DCH Lond 1970, MRCP 1971, Fellowship 1996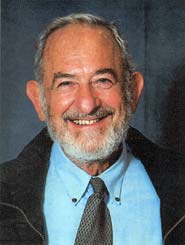 " A dear husband, zeida (grandfather), brother and friend. A caring paediatrician and mentor. He saw God in the beauty of creation from the top of the mountain. His light touched many lives and he will be lovingly remembered"
-    The inscription on his gravestone in the Pinelands Jewish Cemetery, Cape Town.
'His light' alludes also to phototherapy for the treatment of neonatal hyperbilirubinaemia that Singer introduced to South Africa at a time when it was scarcely known in North America and Europe. He first heard of this new approach whilst still a registrar at the Peninsular Maternity Hospital in District 6, a relative backwater of Cape Town teaching hospitals where registrars were almost left to their own devices. In those days it was possible to have a bright idea and to launch into research almost immediately if you could do the job by yourself. Hospital investigations were free. Singer set about studying phototherapy and had his results accepted by world authorities at the 1968 SA Paediatric Association Congress in Cape Town. In no time the practice was adopted throughout South Africa. His other major contribution to child care in his home country was through his advocacy of breast feeling.
Singer was educated in Muizenberg and the University of Cape Town. After junior posts in Groote Schuur and Pietermaritzburg he spent 7 years in general practice in Harare before returning to Cape Town and then going to the UK to specialise in paediatrics. This was followed by three academically productive years back in Rhodesia (Zimbabwe) before he went back to CapeTown, a paediatric practice and medical school lecturing, something he was both good at and loved.
He had a deep faith and ethical convictions but seldom spoke of either outside his home. He will be remembered for his lively humour, his abhorrence of gossip, his self-effacing modesty and great physical fitness until overtaken by prostate cancer.
Klein, M SAMJ 2006 96 788. Reproduced with kind permission of the SAMJ.