Specialty:
Paediatrics/Community Child Health
Designatory Letters:
MB BS Lucknow 1955, DCH Eng 1960, MRCPEdin 1965, FRCP Edin 1980, FRCPCH 1994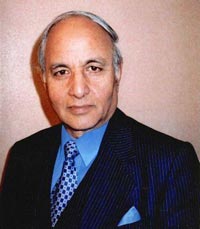 (Contributed by Dr. Makki H. Hameed, Consultant Paediatrician)
Zafar Zaidi, former Consultant Paediatrician to King George's, Oldchurch and Harold Wood Hospitals, Ilford and Romford, died on 31st May 2006.
Zafar qualified from King George's Medical College (KGMC), Lucknow, India, in 1955. After a year's house posts at KGMC Hospital he undertook his specialist Paediatric Residency in Ottawa General Hospital, the Department of Paediatrics at the University of Ottawa, and the Hospital for Sick Children, Toronto, Canada, becoming Chief Resident. During this period he invented a protection device for scalp-vein needles in neonates receiving intravenous therapy which entered routine clinical practice and amidst other contributions described and named the hula-hoop syndrome. He subsequently undertook postgraduate studies in London for the Diploma in Child Health and later in Edinburgh for the Royal College of Physicians. He worked in London, training at Great Ormond Street and the North Middlesex Hospitals as a Senior House Officer and as Paediatric Registrar. His contributions during this period included widely cited, pioneering work on the antenatal treatment of congenital thyrotoxicosis; he also performed some of the first clinical trials of the new generation of penicillin antibiotics, ampicillin and cloxacillin, in newborns during this time. After brief consultancies in the north, Bedford, Hertfordshire and Essex, he was appointed in 1967 to found the Department of Paediatrics, Jawaharlal Nehru Medical College, Aligarh Muslim University (AMU), India, becoming Head of Department and Professor of Paediatrics. Among other projects here he conducted major trials on the treatment of hookworm, ascariasis, and other tropical childhood infections.
In 1972 Zafar was appointed in London as Consultant Paediatrician for North-East Thames to King George, Oldchurch and Barking Hospitals, also working at Ilford Maternity, Rush Green, and later at Harold Wood Hospitals. Zafar was amongst the very first overseas-qualified paediatricians to be appointed to a substantive Consultant's post in the UK, and was the first in London; in the early 1970s this was regarded as an exceptional career accomplishment and distinction. He would be looked up to as a role model for many paediatricians who followed. Zafar retired in 2003 after over 30 years' sterling service with us as a Consultant Paediatrician here in Ilford and Romford, including a period as a very successful Clinical Director of Paediatrics. A respected and eminent paediatrician, he was also a popular colleague, who held the post of Secretary and later became the 102nd President of the Ilford Medical Society. An enthusiastic teacher and trainer, with his experience in developing new children's units he founded the Department of Paediatrics of Al Ain University (UAE) during a year's sabbatical, later briefly working also in Sharjah, Jeddah and Jubail. Through his broad knowledge of paediatrics and child health, gained from training in the most renowned centres in Britain and North America, combined with his experience in developing countries, he contributed to the academic development of innumerable trainees in the UK and abroad. He published extensively and widely on paediatrics in peer-reviewed journals; his work on the FG Syndrome was broadcast on British television. He was an active contributor to the Indian Medical Association (UK).
On top of his distinguished career and many contributions, Zafar was greatly admired by staff and patients wherever he worked, owing to his professional integrity, his exceptional dedication, and his practical, sincere and helpful nature. He was mild-mannered, fair-minded, and a gentleman. News of this great man's death was accompanied with formal remembrance by AMU and by KGMC, Lucknow. Zafar was a most outstanding colleague to work alongside as a fellow Consultant Paediatrician here in London. He leaves a wife; a son (a Surgical Registrar in Ophthalmology); two daughters; and a granddaughter.