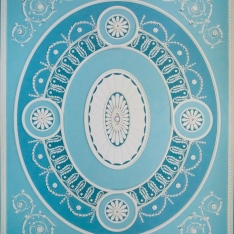 This is the oldest building on Queen Street and one of the oldest in the whole of Edinburgh's New Town. It was designed in the 1770s by Robert Adam, the influential Scottish architect who was also responsible for the university's Old College buildings, and Register House.
No. 8 was built for Robert Ord, who was then Chief Baron of the Scottish Court of the Exchequer. During his residency Ord entertained many notable members of Edinburgh society in these rooms, including the philosopher and essayist David Hume.
The rooms in the suite are named after past Presidents Sir Stanley Davidson, an outstanding twentieth century medical teacher, and William Cullen, who was one of the most renowned physicians in Europe during the second half of the eighteenth century.
The Davidson Room
This room has an elaborate original square ceiling with a fluted central roundel. A portrait of Sir Stanley by Raeburn Dobson hangs above the fireplace. The room would have been lit by a candelabra placed on the table in front of the mirror. 
The Cullen Room
This was Baron Ord's principal drawing room. After No. 8 was purchased by the College in 1868 it was then leased to a school – now Stewart's Melville College – and the chimney piece shows traces of the Victorian schoolboys' graffiti 'handiwork'. Some of the Council Chairs are from the eighteenth century and were used in the George Street Hall.
The New Library
When No.8 Queen Street was purchased, the kitchen block standing behind that building was demolished and a new College library was built on the site. The architect was David Bryce who also designed the Royal Infirmary and Fettes College. He based the New Library's layout on the Bodleian at Oxford.