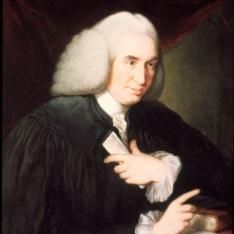 (15 April 1710 – 5 February 1790)
Biography
William Cullen was born near Glasgow on 15 April 1710. His father was an attorney and agent for the Duke of Hamilton. His early education was at the local grammar school before enrolling at Glasgow University where Cullen studied arts. He was apprenticed early on to John Paisley, a Glaswegian surgeon apothecary with whom Cullen must have encountered patients having surgery without anaesthesia. At age 19 Cullen became a surgeon on a trading ship bound for the West Indies from London. By 1732, Cullen had returned to Scotland to practise medicine and surgery. Cullen's father and elder brother died, leaving Cullen a small legacy that allowed him to move to Edinburgh to study medicine in 1734.
In Edinburgh, Cullen was a founder member of the Royal Medical Society. Upon receiving his qualifications, Cullen moved back to Hamilton, where he was born, and the Duke of Hamilton quickly became his patient and patron. Cullen gained the confidence of the great families in the area and was a magistrate for two years. In 1737, Cullen acquired a pupil, William Hunter, with whom he would start a partnership with the objective of making Glasgow as great as Edinburgh in medicine. Although Hunter had planned on becoming Cullen's surgical partner, he moved to London where he established a successful practice.
Cullen wanted to practise solely as a physician and in 1740 obtained his MD from Glasgow University. In 1741 he married Anna Johnstone and together they had seven sons and four daughters. By 1744, Cullen was living and working in Glasgow. In this period, Glasgow did not have a dedicated medical school to speak of, although Cullen began to change that. In 1746 he offered lectures on the theory and practice of physic. He successfully added materia medica, botany and chemistry to his lecture repertoire. In Cullen's time teaching at Glasgow, chemistry was his principal preoccupation. Cullen was successful as a teacher at Glasgow, becoming professor of medicine, although his private practice did not flourish.
Influential friends finally convinced Cullen to move to Edinburgh in 1755 were he shared the chair of chemistry with Andrew Plummer, who died the following year, making Cullen the sole occupant of the chair. Cullen's success and popularity as a teacher followed him to Edinburgh and his reputation as a clinical teacher quickly reached international acclaim. By 1757, Cullen was invited by the Royal Infirmary to give clinical lectures. This series of lectures, as well as his earlier lectures at Glasgow, were pirated and published in an unauthorized edition in 1772. Cullen agreed to reissue the lectures and by the end of his life rewrote this volume.
Cullen became president of the Royal College of Physicians of Edinburgh in 1773 and had the pleasure of laying the foundation stone of the new hall on George Street. Cullen was an active participant in the revision of the Edinburgh Pharmacopoeia in his time as president. His clinical lectures at the Royal Infirmary were immensely popular and his private practice was flourishing.
With the deaths of Robert Whytt and John Gregory, Cullen had become the leading physician in Scotland. He received postal consultations from many parts of the world. After 1773 the number of letters he received was between 150 and 200 per year. He took these consultations seriously and advised on lifestyle, diet and medicinal recommendations. Cullen was incredibly sociable and an active participant in several clubs that were central to the exchange of ideas in Edinburgh. He was a member of the Philosophical Society, which in 1783 became the Royal Society of Edinburgh.
Cullen continued lecturing, clinical teaching and private practice until late 1789 when ill health forced him to resign his chair. He died in his home on 5 February 1790. Cullen's influence extended far beyond Edinburgh. His students were instrumental in the establishment of institutions such as the medical school in Philadelphia as well as holding various medical posts across the British Empire. Cullen was among the literati of the Edinburgh Enlightenment. His role in 18th century medicine was monumental and intellectually, he was a giant among giants.
Notable Achievements
Cullen was appointed Professor of Medicine at Glasgow University in 1751.
In 1756, Cullen became the sole Professor of Chemistry and Medicine at Edinburgh University.
In 1773, he was appointed Chair of the Institutes of Medicine and the Chair of the Practice of Medicine.
Cullen was president of the Royal College of Physicians of Edinburgh from 1773 to 1775.
Key Publications
•    Synopsis nosologiae methodicae (1769)
•    Institutes of Medicine, Part 1, Physiology (1772)
•    First Lines of the Practice of Physic (1777–84)
•    A Treatise of the Materia Medica (1789)