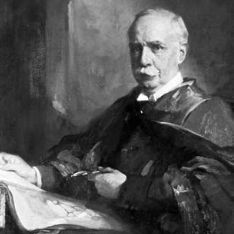 (29 December 1857 – 25 January 1939)
Biography
Robert William Philip was born in Glasgow on 29 December 1857, the youngest son of a minister of the Free Church of Scotland. In 1866, his father was transferred to Edinburgh and the family moved. Philip attended the University of Edinburgh where he obtained an MA before graduating MB, CM with honours in 1882. That same year, he travelled to Leipzig and Vienna to study embryology and gynaecology. In Vienna, Philip encountered the work of Robert Koch, shortly after his discovery of the tubercle bacillus. Philip returned to Edinburgh in 1883 and set up his medical practice. That same year he became house physician to John Wyllie at the Royal Infirmary of Edinburgh. In 1885 he became assistant physician to the New Town Dispensary and in 1887 he was appointed assistant to the professor of medicine at the university.
Philip retained his interest in tuberculosis and set out on a series of investigations resulting in a thesis titled, 'A study in phthisis, etiological and therapeutic', which in 1887 earned him the Edinburgh University MD degree and gold medal. Tuberculosis in this time was seen as a major public health issue. In 1887, Philip opened the Victoria Dispensary for Consumption and Diseases of the Chest.
In 1888, Philip married Elizabeth Motherwell, who was one of his supporters in opening the dispensary. As with his research for his MD degree, the methods Philip developed at the Victoria Dispensary were informed by his understanding that tuberculosis was both a transmissible and a systemic disease. Philip argued that the best way to treat tuberculosis was to build up the immune system of patients to enable them to resist the infection. He advocated fresh air, nutritious diet and clean surroundings. In 1891, his dispensary was able to grow and moved to a new location. In 1894 the Victoria Hospital for Consumption was opened at Craigleith, to provide institutional treatment for more advanced cases of tuberculosis.
Philip continued advocating for reforms surrounding tuberculosis and his views on surveillance and hygienic supervision became commonplace in public health thinking by the end of the First World War. He was knighted in 1913, acknowledging all the work he had done. A national tuberculosis scheme was adopted in Edinburgh and Philip remained a consultant and expert advisor. In 1917, a trust endowed a chair of tuberculosis at Edinburgh University and Philip became its first occupant. Following his knighthood, Philip was appointed honorary physician to the king in Scotland.
Philip's first wife died in 1937 and he remarried in 1938 to Edith Josephine, who died in 1939. Edith was also a champion of tuberculosis and had opened the first tuberculosis dispensary in England at Paddington in 1909. Philip also died in 1938, on 25 January in his home in Edinburgh. Philip fought tuberculosis until the very end of his life.
Notable Achievements
Philip was elected fellow of the Royal College of Physicians of Edinburgh in 1887.
In 1890 Philip was appointed to the Royal Infirmary of Edinburgh as a chest physician.
In 1913 Philip was knighted.
In 1917, Philip took up the world's first chair in tuberculosis at the University of Edinburgh.
He was president of the Royal College of Physicians of Edinburgh from 1918 to 1922.
In 1927, Philip was president of the British Medical Association.
In 1933 he was elected fellow of the Royal College of Physicians of London
Key Publications
Pulmonary Tuberculosis, Etiological and Therapeutic; Based on an Experimental Investigation (1891)
Selections of writings (1911)
The control and eradication of tuberculosis: a series of international studies (1911)
The Actual Position of Tuberculosis To-Day (1923)
Collected Papers on Tuberculosis (1937)