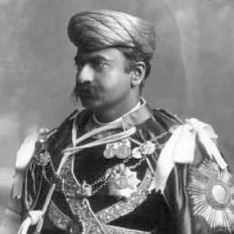 (24 October 1865 – 5 March 1944)
Bhagvat Singh was born Kumar Sri Bhagvatsinghji Sahib, Yuvaraja Sahib of Gondal in Gujarat, India.
In 1869, aged four, Bhagvat Singh's father died, and he succeeded him as chieftain of Gondal.
Bhagvat Singh was educated first at Rajkumar College and then at the University of Edinburgh where he graduated MD in 1895. After graduating he became a Fellow of the Royal College of Physicians of Edinburgh.
He went on to be appointed President of the Organising Committee of the 8th International Congress of Hygiene and Demography at Budapest in 1894 and Vice-President of the Indian Medical Association. His publications included 'A Short History of Aryan Medical Science'.
Bhagvat Singh was a progressive leader, a promoter of women's rights he introduced free compulsory education for women and abolished purdah for women.
He also reformed state administration by abolishing customs and export duties and funded hospitals, schools and colleges.
Other notable achievements include the improvement of livestock through adoption of modern farming techniques and introducing sewage and plumbing systems.