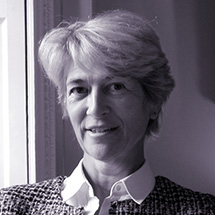 The Royal College of Physicians of Edinburgh is pleased to confirm the appointment of Professor Angela Thomas as Acting President until an election can take place later this year.
Prof Thomas became a Fellow of the College in 1994 and has been involved in the work of the College for over 20 years, most recently as the Director for Heritage. She trained as an adult haematologist, specialising in paediatric haematology, and worked as a consultant at the Royal Hospital for Sick Children, Edinburgh, where she is currently working as part of the COVID-19 response. In addition, she was Director of the haemophilia centre at the city's Royal Infirmary until June 2017. She has played a lead role in regulation of medicines at a National, European and International level since 2002 and was vice chair of the UK government's Commission on Human Medicines until December 2018.
Prof Thomas was awarded an OBE for her services to the Regulation of Medicines for the protection and promotion of Public Health in the 2018 New Year's Honours List. She continues to work for the licensing authority (MHRA) on the efficacy and safety of medicines. 
Dr Sue Pound continues as Vice President (Scotland and Northern Ireland), Professor Sunil Bhandari as Vice President (England and Wales) and Dr Conor Maguire as Vice President (International).

College Chief Executive, Keith McKellar said:
"I am delighted to welcome Angela to her new role. These are challenging times for us all but I am confident that we have a strong team in place to work closely with Council and the College's Senior Management team as we move through the COVID-19 pandemic and towards the election of a new President later in the year".
 Nominations for President
The College is proposing that nominations will open later this year for the position of President with an election taking place shortly after. An announcement regarding the new President will be made at the Annual General Meeting.