Designatory Letters:
MB Glasg 1950, MRCP Edin 1955, FRCP Edin 1971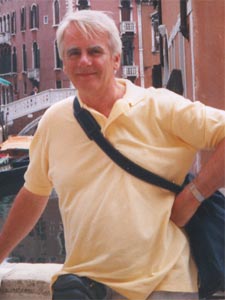 (Based on an address given at his funeral by his son David)
By any standards he was a remarkable man. He could be difficult, argumentative, stubborn, embarrassing, funny. How to came to be a doctor says much about him.
He was born in Govan, then spent his childhood in Giffnock near Glasgow, leaving school at 14 to become an apprentice in an engineering firm. Whilst recovering from appendicitis he decided to become a doctor. Before he could be accepted in medical school he had to attend evening classes and do distance learning through a postal course. By this time he had left engineering and worked in a butcher's shop, jokingly saying that he would have a head start as a surgeon with all his experience with his knife. Accepted by Glasgow University, and qualifying in 1950, he spent holidays working as a labourer on hydroelectric dams and courting the lady destined to be his first wife, Joan Birkett.
He entered the Royal Nay for his national service then stayed on for a further 12 years, finally as Surgeon Lieutenant Commander, seeing service around S. America where he took a liking to the wines, and in Hong Kong, with his wife and 2 young children.
In civilian life he became a geriatrician, firstly in Exeter then in Circencester and Cheltenham until retirement in 1991. His time in Exeter is to be remembered in a new wing of the Royal Devon and Exeter Hospital named after him. An avid reader of professional journals he was honoured with an award by the British Geriatric Society and frequently invited to address scientific meetings in Europe.
Sadly his marriage ended in divorce in 1980 but two years later he married Primrose Haliburton and enjoyed much happiness with her, setting up a new home, travelling, fund-raising for charity (including a parachute jump) and revelling in his grandchildren until Primrose's death from cancer, followed by his own myocardial infarction and stroke when he was cared for by sister Mary and daughter Alison.
He was essentially a quiet man, a private man but one who brought fun, laughter and love into others' lives, a man devoted to his patients and the highest standards of professional care.