Designatory Letters:
Non-medical BA, Hon LLD Harvard 1989, Sindh 1994, Mendanao 1995, Peshawar 1995, Hon Dr Econ Tokyo 1996 Hon Fellow, Lady Margaret Hall, Oxford 1989, St Catherines College Oxford 1989, Hon Professor Kyrghyz Statwe Uni 1995, Hon Professor, Yassavi Kazakh Univ Turkey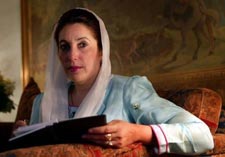 Contributed by Dr Hasnain Ali Shah)
Mohtarama Benazir Bhutto, the charismatic leader of a major political party in Pakistan was assassinated in a campaign rally in Rawalpindi on 27th December 2007. This happened as a result of an incident involving bomb explosion and shooting whose exact details remain uncertain. The tragedy followed a very successful rally which she addressed as a part of her election campaign.
Mohtarama Benazir Bhutto was born on the 21st of June 1953 in an aristocratic family of Sindh. Her grandfather Sir Shahnawaz Bhutto was a rich land owner who served as Chief Minister of Junagadh State during British rule in India. Her father, the late Zulfikar Ali Bhutto, was a dynamic personality who introduced a revolutionary style of politics in the Sub-continent. Although he was educated and trained at Oxford and led a very Western life style, he understood the needs of the peoples of the Third World. He rose to the rank of an internationally acclaimed political leader in a vey short period and at a very young age. In 1972, he became prime minister of Pakistan, though his government was toppled in a military coup in July 1977. This was followed by a series of hardships for the Bhutto family and the party he led. Zulfikar Ali Bhutto was hanged in April 1979 after a Supreme Court verdict in a political murder case.
Benazir Bhutto was twenty six years old at the time. She received a very modern and Western-style education, first at Karachi and later at Harvard and Oxford Universities. She was the first Asian woman to be elected president of the Oxford Union, the world-famous debating society. The death of her father had set a tough and troubled life before her. A number of years were spent in exile during the military dictatorship of General Zia ul Haq. She returned to Pakistan in 1986 to start a political career which brought her to power as Prime Minister of Pakistan in 1988. At the time, she was just a young woman of 36, achieving the distinction of becoming the first woman prime minister of a Muslim country.
It proved a turbulent introduction to power and governance. The dictatorial rule of the late General Zia ul Haq had just ended very abruptly. Ms. Bhutto and her party were not appropriately organized and prepared to take on the mantle of governance of a nation which had gone through military rule for over a decade and was left with innumerable internal and external unresolved issues. The political system needed a fresh revamping. For Ms. Bhutto, a lot was yet to be learnt in politics. Nevertheless, having been born and brought up in a political family, she went through this period with political astuteness and courage. In 1990, her tenure was cut short by the dissolution of parliament by the then President of Pakistan, Mr Ghulam Ishaq Khan. Ms. Bhutto and her government were charged with corruption, amongst other irregularities.
After a few years in opposition, Ms. Bhutto returned to power in 1993, which was a unique distinction as no one had been prime minister twice in the political history of Pakistan. This time around the socio-economic and political problems had multiplied several fold. Her younger brother Mir Murtaza Bhutto, who was also in politics and leading his own faction of the Peoples Party, was gunned down by police under as yet un-explained and mysterious circumstances. This was a severe personal and emotional set back for Ms. Bhutto.
Although she had the advantage of political experience in her second term, once again her government faced the axe from President Farooq Ahmed Leghari in 1996. This cessation of office put her in the opposition benches once again. She played the role of an opposition leader very effectively.
When another military rule came up in October 1999, this time led by General Pervez Musharaf, Ms. Bhutto opted to go into self exile and stayed out of Pakistan for many years. Last October, she returned with a view to startimg a fresh spell in politics. However, this time it was not to be. On the 27th of December 2007 she was assassinated in a bomb and gun attack in Rawalpindi, the same city where her father was hanged 28 years earlier. Her tragic death has ended a chapter in the political history of Pakistan and dealt a severe blow to the Bhutto dynasty. She was laid to rest in Garhi Khuda Baksh – her native village, near the town of Larkana, Sindh – beside her father's grave, amidst thousands of mourners.
Mohtarama Benazir Bhutto was married into a family of land owners, agriculturists and business people. Her husband Asif Ali Zardari is himself the son of a politician with affiliation to Ms. Bhutto's Pakistan Peoples Party. He is fond of horse breeding, and is a keen polo player. He has served in parliament during Ms. Bhutto's tenure as prime minister, playing an important role in the political arena in those days. She bore three children, the eldest being Bilawal Zardari, who is now eighteen years of age and a student at Britain's Oxford University. Asifa and Bakhtawar, the two daughters, are also studying abroad.
Mohtarma Benazir Bhutto will always be remembered as a unique human being who conquered grand challenges through an unforgettable martyrdom. In her death, the country has lost a great leader, and her family mourns a lady of immense courage and character who faced the world of both public and private life alike with great resilience and fortitude.