Designatory Letters:
MB Sydney 1943, MRCP Edin 1960, FRCPE 1976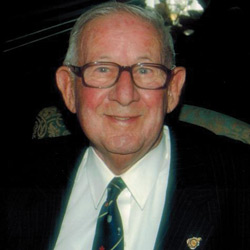 (Contributed by Bruce Davis)
Harold Davis was born in Newcastle on 3 September 1920, the son of Dr Clyde and Vera Davis and the brother of (Dr) Neville Davis. Harold was educated at Beecroft Grammar and then Sydney Grammar. On gaining his Leaving Certificate he undertook an accelerated degree course at Sydney University, graduating in Medicine in 1943.
World War II was to briefly interrupt his medical career and he served in New Guinea with the armed services.
In 1947 he commenced medical practice with his father, Dr Clyde Davis, in Pennant Hills.He married Marjorie, to whom he was married for 57 years.
In 1958 John Hodgson joined as a partner in their medical practice in Hampden Road, Pennant Hills. At that stage in the practice Clyde and John carried out surgical and gynaecological procedures and they all undertook GP services and obstetrics and some anaesthetics.
In 1960 Harold went to the UK and successfully studied to become a Fellow of the Royal College of Physicians of Edinburgh (FRCP Edin). On return he became a Fellow of the Royal Australian College of Physicians and also a Fellow of the American College of Chest Physicians (FRACP and FACCP). He had a special interest in chest diseases. Throughout his career Harold continued as a consultant in respiratory diseases and conducted chest clinics at Royal Prince Alfred, Parramatta, Westmead and Hornsby hospitals. He was an Honorary Respiratory Physician at Hornsby Hospital and the Sydney Adventist Hospital.
In 1964 Clyde Davis retired. The Hampden Clinic was, by then, a four man practice and continued for 17 years. The practice was a great success with all doctors working together very amicably and harmoniously. Great tribute must be paid to Harold for his part in the establishment of the practice and its smooth running. The success was in no small measure due to his wisdom, intelligence, guidance and managerial skills.
He was unfailingly pleasant to all with whom he dealt, respected by his patients and highly regarded by his colleagues and friends, which stamped him as a great and caring doctor and a fine man.
Harold lived initially in Pennant Hills, then for 37 years in Wahroonga and later at The Grange in Waitara.
After he retired, Harold was President of Beecroft Probus and had a keen interest in sport, enjoyed rugby and played golf, being at his death the longest serving member of Pennant hills Golf Club - 69 years.