Specialty:
Paediatrics/Community Child Health
Designatory Letters:
CHid HealthMB Glasg 1943, MRCP Edin 1952, FRCP Edin 1971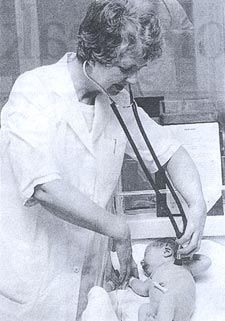 Sheenah Russell died aged 86, in Dumfries and Galloway Royal Infirmary where she had worked for many years as its first consultant paediatrician.
A Dux of Glasgow High School for Girls, she graduated MB.ChB in Glasgow in 1943 with the class medal and a first class in clinical medicine and hoped to embark on a career in paediatrics but by the time she had done her house jobs priority for specialist training posts was being given to those returning from the war. In 1952 she even had to vacate the registrar job she occupied to make way for a man.
In 1954 she moved to Dumfries and Galloway, working in many hospitals, some of them quite unsuitable for the care of children, until in 1968 she moved to Cresswell on its completion, then the new Dumfries and Galloway Royal Infirmary in 1975, retiring from there in 1984. It was there that she introduced parents being encouraged to remain with their children, greater use of ward teachers, an emphasis on play and a relaxed atmosphere.
In the Year of the Child, 1979, she organised summer picnics with some of the catering staff dressed up as butler and footmen. She was spoken of with much affection and gratitude for her skill, her wisdom and her humanity.
Retirement enabled her to nurture her love of music and flowers, and to spend time on Arran which she loved so much. Sadly her final years were marred by failing eyesight and eventual blindness which she bore with courage and dignity.