Specialty:
General/Internal Medicine (Private practice)
Designatory Letters:
MB Hong Kong 1959, DTCD Wales 1964, MRCP EDIN 1965, MRCP Lond 1965, DTM&H L'pool 1970, FACCP 1969, FRACP 1975, FRACGP 1982, MICGP 1987, FRCPSG 1987, FHKCP 1987, FRCP Edin 1989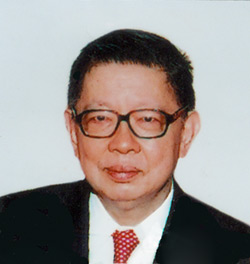 [Contributed by his wife]
Like his father, Dr. Choy was also a medical graduate from the University of Hong Kong. He joined his father's practice as a partner in his early private practice. Before this when he worked as a medical officer in Kwong Wah Hospital, he met his wife, Dr. Dillys Ko, a medical graduate from the University of Manchester, to whom he was married for 42 years. After his father's passing, Dr. Philip Choy became principal of his own firm "Dr. Philip P. M. Choy & Associates" with his wife assisting him. Philip's keen interest in various specialties of internal medicine was truly life long, he spent many hours reading textbooks, various current medical journals and attended many meetings and seminars with great enthusiasm. His medical knowledge was always wide although might not be in depth. As Philip was in private practice, he had more time to spend with his patients, he always took a careful history which should be the basis of good clinical medicine towards an accurate diagnosis.
Philip was devoted to family life in his spare time. He enjoyed fine dining with the family, going to the cinema and watching television at home, especially the sports channels, e.g. English Premier League Football Matches, Tennis ATP and the Four Grand Slam Matches. (We have many programmes live in Hong Kong)
In our last visit to Scotland, we were both together in Inverness where we enjoyed the beautiful scenery, the warm Scottish hospitality and the delicious food of Scottish smoked salmon and roast beef. We had a boat ride on the famous Loch Ness. As it has the legend of the Loch Ness Monster, it was more exciting. We were happy to get safely on land again at Urquhart Castle with a lone Scottish piper.
The Choy family has long association with British higher education. Philip's two sons were both UK graduates; his elder son, a University of London graduate and founder of a business enterprise in Hong Kong, his younger son, a graduate from the University of Aberdeen and became a technology expert.
As a professional for lifetime, Philip was always keen on learning and updating his medical knowledge. He was remembered by his patients as a very good physician, always kind and caring. He passed away at the age of 75 1/2 years, and is survived by his wife and two sons.