Specialty:
General Internal Medicine, Diabetes and Endocrinology
Designatory Letters:
MB ChB 1994, MRCP 1998, MD 2004, FRCP Edin 2008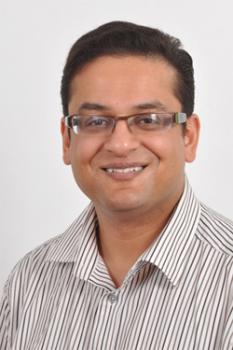 (Contributed by David Ewins, Frank Joseph, Arpana Verma and Anu Goenka)
Niru was born in India in 1971 and moved to the UK at the age of three. He studied medicine at Liverpool University graduating in 1994 and, although his father was a respected local GP, he chose a career in hospital medicine.
He completed his specialist training in Diabetes and Endocrinology on the Mersey rotation having undertaken an MD at Warwick University under the supervision of Dr Paul O'Hare (1999-2001).
In 2005 he was appointed as Consultant Physician specialising in Diabetes and Endocrinology at the Countess of Chester Hospital where he quickly gained a reputation for being a dedicated and caring clinician and teacher, much respected by his patients and colleagues.
Niru was an enthusiastic advocate of local diabetes care and as chair of the local Diabetes Network was integral in introducing a bespoke patient education programme and setting up a Local Enhanced Service (LES) in primary care allowing greater, more responsive, subspecialisation within the secondary care diabetes team.
He reinvigorated the Mersey Regional teaching programme for specialist trainees and had the foresight to introduce 'taster' sessions to encourage prospective trainees into the specialty.
Nationally, Niru made a name for himself as a committee member for the Association of British Diabetologists (ABCD) and within NICE where he stood on several Technology Appraisal groups helping to write guidelines on new drugs in diabetes and the management of painful neuropathy.
He set up a very active and productive research unit in Chester with developed productive links with the University. His academic interests and acumen led to a role on the Editorial Board of the journal Practical Diabetes where he was subsequently appointed co-editor.
Niru was integral in the Northwest being awarded the National Insulin Pump Audit in 2012 where, through his leadership, the hospitals in the region, primary care organisations and local patient groups collaborated with industry in what was a truly original and innovative bid.
He was an excellent teacher, mentor and raconteur who was always in demand for advice, which he was always happy to give, and was a skilled and appreciated lecturer and great debater. He was an excellent communicator with a refreshing honesty, a good collaborator and a visionary with the enviable skill of being a successful completer.
In everything he did he was an unrelenting and tireless champion for people with diabetes but most of all, however, Niru was a family man who leaves behind a wife and his three much loved sons who will miss him greatly.