Designatory Letters:
MB Malaya 1954, MRCP Edin 1959, FRCP Edin 1971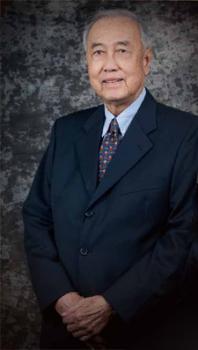 [Contributed by Prof. Woo Kong Thye]
Dr Lim, Cheng Hong breathed life into kampong Nephrology in the early 70's through his fashioning of the rudiments of Nephrology when the world (of Nephrology) was still not quite moulded. Then, Nephrology as a science, was practiced in parts of the world where the service was available only as a fledgling subspecialty of Internal Medicine. He pioneered the development of Dialysis and Renal Transplantation in 1973 when he founded the Department of Renal Medicine at the Singapore General Hospital (SGHJ). He also developed Continuous Ambulatory Peritoneal Dialysis (CAPD) in 1980. Today he leave behind a lasting legacy of Nephrological Practice in Singapore comparable to many overseas Centres of Excellence in Nephrology through the number of nephrologists he has trained these past three decades and more. The Nephrology service in Singapore is now available in four restructured hospitals and in all private hospitals.
Indeed Dr Lim has been a giant in many ways apart from his physical stature, literally and otherwise. He has enjoyed a fine reputation in the surrounding Asian Pacific Region where he helped to develop Nephrology in the region through his contribution in the Asian Colloquium and the Asian Pacific Society of Nephrology both of which he was a founding member.
For Dr Lim's pioneering role as the Father of Nephrology in Singapore, SGH and the Department of Renal Medicine honoured him with a Festschrift on 26th September 1996.
He was the Founding President of the Singapore Society of Nephrology (SSN). On the evening of 28th November 1972 Dr Lim together with Professor Khoo Oon Teik held the inaugural meeting at the Brunel Hawes Lecture Theatre of the old SGH. Since that meeting the SSN has flourished and, at its height, hosted the World Congress in Nephrology in Singapore in 2005, which put Singapore on the world map in Nephrology.