Specialty:
General Internal Medicine/Gastroenterology
Designatory Letters:
MB Ncle 1979, MD Ncle 1991, MRCP Lond 1982, FRCP Edin 2011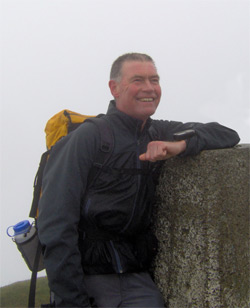 (Contributed by Drs. John Mansfield and Peter Matthewson)
Ken Matthewson combined many of the ideal attributes of a doctor. He was hardworking, dedicated, interested in people, caring and wise. He was an inspiration to many colleagues and managed to balance work and leisure.
Initially appointed as consultant physician and gastroenterologist at the RVI Newcastle and Hexham General Hospital in 1989, he became full time in Newcastle from 2001. He was highly proficient at ERCP and all other advanced endoscopic procedures and had a special interest in the use of diathermy and laser in the treatment of acute GI bleeding.
He was one of the first gastroenterologists in the UK to develop a specialist PEG service, bringing together all the expertise needed to give patients, who required nutritional help, the best possible support. This involved close liaison with the many teams caring for several chronic diseases. His involvement of the nurse specialists and dieticians in this team enabled the service to be a real success and colleagues had expert advice on the practicality and wisdom of PEG feeding in some very challenging situations.
When bowel cancer screening was introduced, Ken took this forward and set up an excellent service using the same team based approach. A recent QA review recognised the very high quality of this service and the major contribution to it from Ken's leadership.
Ken's patient and dedicated approach was seen in endoscopy training. He always had time to listen to trainees and took time to get to know the team's junior doctors.
He was very supportive to his family and friends and typically once he set himself a task he would complete it, for example the 284 Munros in less than 4 years. He also enjoyed frequent visits to the Lakeland fells and was a superb photographer. He is survived by his wife and two children.