Specialty:
Paediatrics/Community Child Health
Designatory Letters:
MB Camb 1967, FRCPLond 1981, Hon FAAP 1991, FRCPCH 1998, FRCP Edin 1999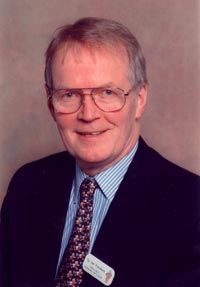 (Contributed by Gordon MacKinlay, consultant paediatric surgeon)
Jon Pritchard, a leading pioneer in the field of paediatric oncology died of a brain tumour on 20th January 2007. Jon was a unique figure in this sphere with the ability to lead and to stimulate others to advance the cure rate in childhood tumours.
Born in Manchester on 7th March 1942, his mother a doctor, father an electrical engineer, he went from Manchester Grammar School up to St John's College, Cambridge graduating BA (Cantab) in 1963 and then to St Thomas' Hospital, London for his clinical training, graduating in 1966.
His first post was house surgeon to cancer surgeon Sir H E Lockhart-Mummery at St Thomas' and he often reflected fondly to me on his sound grounding in surgery! He was intent on a career in Paediatrics from the outset, spending a year in Harare Hospital, Salisbury Rhodesia before becoming registrar in paediatric haematology/oncology with John Martin in Liverpool. This was followed by a year in Boston, Massachusetts in the Sidney Farber Cancer Center before moving in 1976 to The Hospital for Sick Children, Great Ormond Street first as lecturer and later Senior Lecturer and Consultant Paediatric Oncologist. In 1998 he joined the Department of Surgery at The Institute of Child Health, University of London.
His major contribution to paediatric oncology is obvious in his 61 page CV which lists 144 original articles as well as many editorials, books, chapters, letters etc. He was an internationally recognised expert in paediatric oncology with particular interest in Histiocytoses, Liver Tumours, Neuroblastoma and many other childhood tumours and he has personally made a major contribution to the remarkable improvement in survival for children with cancer over the past 30 years.
In 2000 he moved to Saudi Arabia for 2 years before becoming Consultant Paediatric Oncologist at The Royal Hospital for Sick Children, Edinburgh in 2002. Colleagues found his enthusiasm and passion for paediatric oncology infectious. He took every opportunity to teach juniors and students and he developed the Grand Rounds to a very high standard. One colleague described his knowledge and ability for lateral thinking as inspirational to a junior paediatrician embarking on a career as a paediatric oncologist. The special and unique relationships he fostered with his patients and their families encouraged others to emulate his trademark quality of 'going that extra mile for the patient'. Patients felt at ease in his presence, saying that he was not only their doctor but a true and caring friend.
In an intellectually and emotionally demanding specialty like paediatric oncology Jon could always be relied upon to boost everyone's spirits by a spur of the moment verse he had cleverly penned often to be sung to a well known tune!
In his spare time he enjoyed piano playing and singing, tennis, walking, ornithology and photography. He was especially proud of five of his photographs being published in the New England Journal of Medicine including one of a shop in an arcade in Padua where I first suggested he might like to come to work in Edinburgh.
He will be sadly missed by his wife Anne Martin, his children Adam and Alex and step children Sian, Kate and Charlotte as well as his many friends and colleagues all over the world and most especially by the patients and families indebted to him for his exceptional care.