Specialty:
General Internal Medicine
Designatory Letters:
LMS Makere 1953, MRCPEdin 1961, MB E Africa 1964, FRCP Edin 1968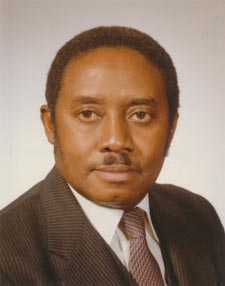 Dr John William Kibukamusoke, July 11, 1932 – August 13, 2009. He was a man who dedicated most of his life to helping people through medicine. He qualified in medicine at Makerere University in Uganda taking London University external degree in M.B Ch B in 1954. From then he specialised in Internal Medicine at the Postgraduate Medical School of London (1960) Whitechapel and later elected to the Fellowship of the Royal College of Physicians London & Edinburgh (1968). He specialised in Tropical Medicine at the Liverpool School of Tropical Medicine (1960) and specialised in Pathology at the Armed Forces Institute of Pathology (USA, 1960).
1964 – 1967 he worked for the government of Uganda as a Specialist Physician. He was Physician to Pope Paul VI on his pilgrimage to Uganda in 1970, and was awarded the Ugandan Independence Medal for this service. He participated in the Specialists Study & Observation program at the Mayo Clinic, Rochester Minnesota. He was Professor of Medicine at Makerere University 1967 – 1973, at University of Zambia 1973 – 1978, elected President of the College of Physicians of East Africa on two occasions 1963 & 1965. Chairman of East African Medical & Agricultural Research Council 1963 – 1973. He was Director of Medical Services at the British Department of Technical Co-operation, St Vincent West Indies (1978 – 1980). The Ugandan Ambassador to Australia (1980 – 1982), a Consultant Physician & Kidney Specialist in Australia (1982 – 1997). He was a published author of 3 medical texts and a novel based on wild life.
Tribute to Professor John William Kibukamusoke ( contributed by Professor Krishna Somers)
He went to the premier residential school in Uganda, then qualified LMS at Makerere, the Licentiate being converted to MBBS in 1964 when Makerere became a fully-fledged University. After junior appointments in Mulago, he travelled to the UK on a Uganda Government Scholarship and undertook further training in internal medicine in London and tropical medicine in Liverpool. On his return home, he was appointed specialist physician in Mulago Hospital, heading one of six units in internal medicine. He developed a research programme jointly with the Department of Pathology, and published on the subject of nephrotic syndrome in quartan malaria. He was subsequently appointed Professor of Medicine. In the aftermath of the Amin military coup and the killings of professionals and academics who were opposed to the Amin regime, in natural fear for his safety he secretly left for the UK, where he was able to negotiate a contract appointment as Head of the Department of Medicine at the University of Zambia. For a brief period he held an interim appointment as Director of Medical Services in St Vincent, West Indies. During the several changes of Government in Uganda immediately after the military dictator Amin was ousted out, he was appointed Ugandan High Commissioner to Australia. He decided to stay on in Australia when his term as High Commissioner ended. For a while he practised in New South Wales as consultant physician. In his retirement he wrote a book, Venus and Leartra, a romantic novel set in the background of the national wildlife parks of Uganda. He died in Sydney from cardiac failure on 13 August 2009. His ashes were returned for traditional burial in Uganda.