Designatory Letters:
MB Lond 1946, MRCP Edin 1956, Fellowship 1970, MA Contab 1976, Consultant in Venereology (G.U.Medicine) The Westminster Hospital, Addenbookes Hospital, 1959-86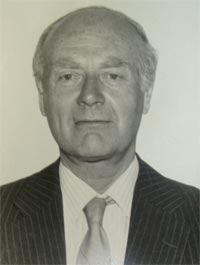 (Contributed by Dr David Rowen and Dr Chris Sonnex)
Titus Oates was born in a Nottinghamshire mining village, educated at The Queen Elizabeth Grammar School, Mansfield and qualified in 1946 from The London Hospital Medical College, having spent some years in Cambridge with the transfer of the pre-clinical school out of London during the war years. He was conscripted into the RAF from 1947-9 where he served in Egypt as a Medical Officer.
He spent a year at The Johns Hopkins Hospital, Baltimore as a Fullbright Scholar where he came under the influence of the noted Venereologist, J.Earle Moore. On his return to the U.K. he completed his training at the Whitechapel Clinic and with the MRC. He subsequently became a peripatetic consultant with clinical sessions at various hospitals in London and the Home Counties. In 1959 he was appointed Consultant to the Westminster Hospital and Addenbrookes Hospital Cambridge.
Even at this early stage of his career colleagues held him in great esteem. The referees for one job application (he did not get the post!) were A.J King, C.S Nicol and E.M Dunlop who at that time were the dominant forces in British Venereology.
He was one of a group who sought to take Venereology out of the Dark ages, from Hospital basements into mainstream medicine and put it on a scientific basis. He developed one of the first joint Dermatology/GU Medicine Vulval Clinics in the country. He was a great communicator; he published on a range of sexually transmitted infections. Of particular interest was Herpes and Reiters Syndrome, publishing one of the earliest papers on the association of HLA B27 and Reiters Syndrome. A paperback, "Herpes. The Facts", written for the general public was one of the first books published that addressed the myths surrounding this infection that abounded at the time.
As a teacher and lecturer Titus Oates excelled. His lectures were pithy, informative, and amusing and his one-to-one teaching in the clinic setting was inspirational. Those of us trained in GU Medicine at Cambridge and the Westminster Hospital look back fondly to working alongside such a kindly and supportive mentor whose breadth of experience was passed on in a gentle manner.
His interviews for radio were also well received by producers and public alike.
He served as Treasurer for the Medical Society for the Study of Venereal Disease for 18 years, but never wished to become President of the Society.
In retirement he continued as Consultant Emeritus at Addenbrookes and did locums in London, for which several consultants are eternally thankful.
Interests outside of medicine were protean. He read widely and was a life long advocate of public libraries. He continued to visit his local library at least weekly until a few weeks prior to his death. He embraced new technology and the Internet brought him close to many old friends and colleagues to whom he sent regular newsletters, detailed accounts of local weather conditions and traffic flows around his adopted home town of Woodford.
He is survived by his wife, Sue, two children and two grandchildren.