Designatory Letters:
MB Camb 1959, MA Camb 1959, DIH 1964, MRCP Edin 1973 Derm, MD Camb 1978, Fellowship 1979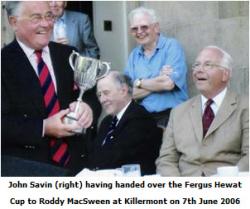 (Contributed by George Beveridge and John Hunter)
John Savin was appointed Consultant Dermatologist in 1971 with duties at the Royal Infirmary of Edinburgh and hospitals in Fife.
John was the ultimate professional. He treated all patients – from Fife miners to peers of the realm – in the same way; that is with courtesy, interest and empathy. He was clinically very adept and had that enviable ability to recollect clinical signs that he had noted years previously and to relate them to the patient of the moment whose diagnosis was puzzling him or his colleagues. He was an extraordinarily astute observer and Sir William Osler would have been proud of him – 'See and then reason, but see first'.
Coming with a background from Cambridge, St Thomas's and St John's Hospital for Diseases of the Skin, he was a breath of fresh air for the Department of Dermatology in Edinburgh. An original thinker, his great intellect and genuine scholarship were a formidable combination. He also professed his vast knowledge in simple plain English and was a master of prose and grammar; 'keep the verbs strong and avoid the passive mode' was a frequent cry. We admired his style and precision as well as his economy in stating complex medical issues. He had no rivals in editing texts that were incoherent and illogical into language that all could understand. He vetted hundreds of manuscripts for local trainees, young professors, and many national luminaries. 'Savinised' was the word coined for this and it soon became popular in the department and eventually much further afield.
John was no mean clinical researcher and his output was prolific – a good MD thesis, 7 books and nearly 200 papers. His writings reflected his broad interests, with papers in the esteemed Lancet to ones in the aesthetic Journal of Cosmetic Dermatology. Over the last decade he wrote many historical articles, three winning prizes in the USA. In the last two years he wrote or edited no less than 90 patient information leaflets for the British Association of Dermatologists, each is a model of clarity and now available for all to see on the Association's website.
Although John denied it, he was probably even more competitive at work than he was at sport, and that is saying something! He clearly wanted to make his mark in national affairs of Dermatology. It came as little surprise when, in 1988, he was elected President of the Dermatological Section of The Royal Society of Medicine in London and, in 1992, President of the Dowling Club. In 1993 he was the first elected President of the British Association of Dermatologists and oversaw the acquisition of the Association's first headquarters in Fitzroy Square in London. He was always well prepared for meetings, chairing them with his distinctive avuncular wit.
John was a nine handicap golfer. He was a member of Bruntsfield and Muirfield (The Honourable Company of Edinburgh Golfers). As in all things he was very competitive and was at his best playing foursomes. He won a number of mixed foursome tournaments with his wife Patricia. He was Captain of the Royal Colleges Golf Club in 2005, where he had greatly enjoyed his golf since joining the Club in 1974. He last played in the annual match between the Edinburgh and Glasgow senior physicians and surgeons which was held at Killermont on the 7th June 2006.
John will be greatly missed by his ever loving wife Patricia, his children, Poppy, William, Rosie and Charlie and his seven grandchildren. John will be remembered forever by his two colleagues of more than 30 years in the Department of Dermatology.