Specialty:
General/Internal Medicine
Designatory Letters:
BSc Edin 1969, MB Edin 1972, FRCP Edin 1986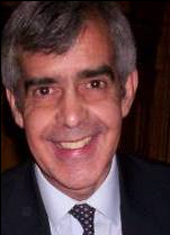 [Contributed by Drs Andrew K. Henderson, James Douglas and Neil Dewhurst]
Gavin Brown was born in Newcastle-upon-Tyne where his father was a pre National Health Service GP working in a mining community with a heavy clinical workload. Gavin frequently accompanied his father on his medical rounds and decided at an early age that he wished to become a doctor.
He attended preparatory school at Croftinloan in Pitlochry. He was academically bright and keen on sports. The home farm at the school started his lifelong interest in gardening and rural Scotland. In 1961 he won an open scholarship to Repton School, Derbyshire and became head boy. He studied medicine at the University of Edinburgh and graduated in 1972. His medical training in Edinburgh developed his academic mind and applied his meticulous personality to clinical practice. His postgraduate training jobs in cardiology and cardiothoracic surgery gave him a lifelong expertise and passion for clinical cardiology. These were groundbreaking days in Edinburgh with bypass machines, heart pacemakers and a mobile Coronary Care Unit staffed by the doctors. In these days high technology was a Morris Minor van with the junior doctors' treating coronary cases at home with not much more than enthusiasm and an ECG machine. However this early experience led to the sophisticated ambulance and paramedic systems of today throughout Scotland.
He quickly gained membership of the Royal College of Physicians in 1976 and extended his training into the developing speciality of care of the elderly. This again was forward thinking in career planning, widening his expertise and ensuring early promotion to consultant status.
On the 1st of April 1983 Gavin started as Consultant Physician the Belford Hospital, Fort William. The Medical Ward had previously been run by the singlehanded Surgeon, Mr Iain Campbell, who had worked for many years to establish the new physicians post. The Belhaven Care of the Elderly and Rehabilitation Ward had been built near the Belford and Dr Brown's first task was to commission the new service and lead the multidisciplinary team. He quickly introduced new concepts on rehabilitation and respite admissions, significantly improving health care for patients and their families in the Lochaber area.
His training and experience from the university hospitals of Edinburgh, which he brought to Lochaber, raised standards, reduced transfers and saved lives for people with medical emergencies such as heart attacks, breathing problems or diabetic emergencies.
In particular his interest and expertise in cardiology became important to the Lochaber area which had at that time an unenviable record of heart disease. He collaborated with a general practice screening research project on heart disease and much of that early work 25yrs ago is reflected in improved heart disease statistics for Lochaber.
Dr Brown started the group called "Heart Smart ( Lochaber)" charity providing a community based Cardiac Rehabilitation service.This group started at the request of the patients who had been on the hospital rehab programme and wished to continue.
He married Donna whom he had met in Edinburgh where she was a Cardiology Technician, and together they established a range of new tests for heart disease at the Belford Hospital.
Dr Brown was always meticulously dressed. He had a consummate professional manner and clinical confidence when dealing with emergencies. He had a dry sense of humour and a winning smile. He was a great clinical teacher and following election as a Fellow of the Edinburgh Royal College he served as a college examiner for many years. Many students and junior doctors were inspired by his clinical teaching.
He was a single-handed Consultant for the Medical Unit at the Belford Hospital Fort William until a second physician was appointed in 1992.
Dr Brown was always fastidious in his clinical care, his letters and his attention to detail. His medical opinions were highly regarded by colleagues and he enjoyed practice in a rural general hospital. Unfortunately he developed a serious illness himself in 1996 and took the decision to retire early from his arduous consultant post at the Belford Hospital after undergoing treatment. He then adopted the more flexible working arrangement of locum posts in rural general hospitals and thereby fulfilled an extremely important function in covering colleagues in Oban and Fort William who knew in Gavin they had a trusted and experienced physician to cover their absence in the hospital. His experience and skills were much appreciated at the Lorn and Islands hospital in Oban where he provided intermittent locum consultant cover over a number of years, and during that time he became involved in the project to bring CT scanning to the hospital, personally securing some valuable additional charitable funding.
During his time at Fort William he developed an interest in occupational health and became the Medical Officer for the aluminium smelter in Fort William in 1993. He undertook further training and exams in occupational health and took to this post his knowledge and skills in preventing heart disease.
Donna and Gavin lived in Onich and were both talented gardeners. Gavin was also keen on cars and enjoyed working on his classic Mercedes sports car.
Four years ago Donna and Gavin retired to Aberlour where he continued part time occupational health work and began developing his new garden. While there he developed his final illness which he bore with great personal dignity and consideration for others.
Dr Brown was a sensitive man who cared deeply about his patients and professional standards. His professional legacy is undoubtedly the medical service which he established in the Belford Hospital and he is sadly missed in the Lochaber community and beyond. He is survived by his wife Donna and one elder brother.