Designatory Letters:
MB Manc 1957, DObstRCOG 1962, MRCGP 1977, FFPM 1992, FRCP Edin 1992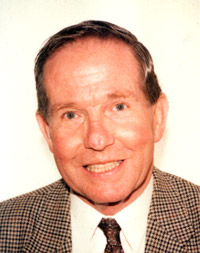 (Based on information provided by his daughter Mrs Claire Williams)
Garry was born in Manchester in 1932 to the daughter of a tea merchant from Edinburgh and Madras and to the son of a school teacher from Perth. His father became a Professor in the Medical School of Manchester University. It was to that school that he went in 1950.
In 1959 whilst serving in a military hospital in Germany he met his wife-to-be. On demobilisation. he entered a Scots-orientated practise in Cheshire but fourteen years later left to join the pharmaceutical company, Bayer, where he remained, ultimately as Medical Director until retirement in 1996.
Not only did he make outstanding contributions to medical care and research, he was an outstanding sportsman playing lacrosse for Cheshire, North of England and finally England on the tour of USA and Canada in 1967. Hw then turned to refereeing, and was first-choice UK referee to the World Services in Melbourne, Australia in 1974. Lacrosse was his first sports love but he also played league cricket, league tennis and Army of the Rhine rugby as well as being 440 yards champion at the Commanding Officers " Invitation to create teams out of nothing" !
He loved and lived life to the full. His favourite charity was the Royal National Lifeboat Association, his special interests his seven grandchildren and his beautiful garden. But to all this might be added his ability to spread happiness and goodness wherever he went and whoever he was with. If there was anything he could not, and would not, tolerate it was work or behaviour that could have been of higher standard.
His wife to whom he was devoted and owed so much died only eight days after he had died ending months of illness on 10th September 2006.