Designatory Letters:
BSc Geneva 1943, MB Geneva 1945, MD Geneva 1947, MRCP Edin 1954, DPM 1957, FRCPsych 1971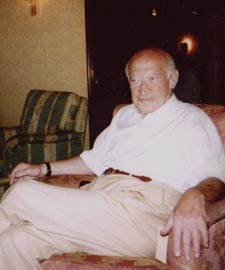 (contributed by Mrs Daisy Mezey and her three daughters)
Alex was born in 1922 in Oradea (then Rumania, now Hungary) and qualified at Geneva Medical School in 1945. In September 1946 he was appointed Assistant Professor to Pasteur Valery Radot (at the hospital Broussais) in Paris. In 1948 he returned to Switzerland and worked as a chest physician.
IN 1950 he qualified to practise in Britain and took up a post first in General Medicine at Nessham Liverpool where he obtained his Membership of the Royal College of Physicians. His great interest was always psychiatry and he was delighted when a Registrar post was offered to him at the Maudsley Hospital, London. He obtained membership of the Royal College of Psychiatry and was appointed Consultant at St. Anne's and the North Middlesex Hospital in 1956.
After his retirement he was highly respected as an Expert Witness in court and loved the intellectual challenge and the cut and thrust of court work.
He was both a clinician and an academic, publishing research and scholarly articles. His great interest in the association of mental disorder and creativity would lead to the publication of his book "Muse in Torment" in 1994.
He was generally happy and contented with his life, never grumbled or felt sorry for himself and was, in terms of his own meeds, a very modest man.
He is greatly missed by his wife and three daughters.