Designatory Letters:
MB Manc 1954, MD Manc 1959, MRCP Edin 1961, MRC Path 1963, FRCP Edin 1973, FRC Path 1975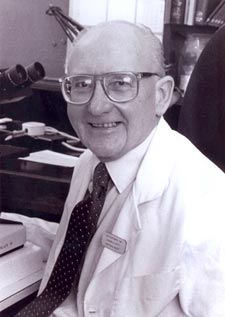 (Contributed by Fiona Barlow)
Alan qualified as an MB ChB at Manchester University in 1954, with post-graduate qualifications of MD 1959 Manchester, MRCP 1961 Edinburgh, MRC Pathology 1963, FRCP Edinburgh 1973 and FRC Pathology 1975.
Alan was also awarded a B merit in 1987. An early supporter of the hospice movement, he worked hard with others to establish Kirkwood Hospice, Huddersfield. After a mild heart attack in 1966, he took up squash, hill-walking, and skiing. A quadruple by-pass and further open-heart surgery in the 1990's did not deter him from completing several long distance walks, all to raise money for Kirkwood hospice.
Retirement allowed Alan who enjoyed singing, to take further degrees and to play bridge. Alan gave his wife, who has Alzheimer's, immense care at home until early 2008. Alan suffered his final heart problems in January 2009. He is remembered by patients, colleagues, friends and family as a quiet, caring man of great integrity.