Specialty:
General (Internal) Medicine and Diabetology
Designatory Letters:
MB Edin 1965, DCH Glas 1967, MRCP Edin 1968, FRCP Edin 1980, GCM 2005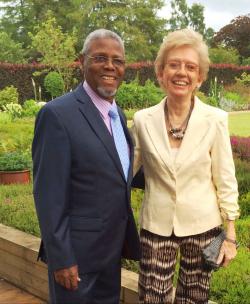 Dr Oscar Wendell Jordan was a consultant general physician and diabetologist at the Queen Elizabeth University Hospital in Bridgetown from 1971 until he retired in 1999.
Oscar was born in Barbados into a family for whom hard work, self-improvement and education were essential aims. His father was a highly respected Chief Inspector of Public Health and his mother a much loved school teacher. All four children attended the Lodge School, founded in 1745 by Sir Christopher Codrington, an anti-slavery advocate. From his arrival in September 1950 until he left for Edinburgh University in 1959, he was recognised as a multi-talented student who represented the school at cricket (1st Eleven School Captain), football and athletics. A gifted guitarist and singer, he had a wide repertoire of humorous calypsos with which he would entertain family and friends.
He won the prestigious Barbados Scholarship (1957) in Classics but realised that medicine was his primary calling. He remained at school for a further year to obtain the Oxford and Cambridge A Levels in Biology and Chemistry required for entry to Medicine. At Edinburgh University (1959-65) he soon made his mark academically and in sport, captaining the Edinburgh University Cricket team and winning an Edinburgh University and Scottish University Blue. After graduation he played cricket for the Carlton Cricket Club in the East of Scotland league and after taking up golf, rapidly became a single-handicap player.
Following his MRCP and further training posts in Edinburgh, he returned to Barbados in 1971 'to put something back into the community who had paid for his education'. He arrived at the Queen Elizabeth Hospital which had just begun training of its own medical undergraduates and postgraduates prior to which their training had been in the UK, Canada and America. Many of the current senior staff saw Oscar as their most significant guide and mentor. Indeed, this high regard and affection was reflected in the honours he received from the Barbados Association of Medical Practitioners, the Department of Medicine at The Queen Elizabeth Hospital, the University of the West Indies, the Lodge School Old Scholars Association and the Government of Barbados, who awarded Oscar the Gold Crown of Merit (GCM) in2005.
Oscar worked tirelessly to promote the highest quality of health care in diabetes, a major problem in Barbados and throughout the West Indies. He founded the Barbados Diabetes Foundation in 2001 which, by dint of his charismatic personality and business acumen, recruited financial support from patients, friends, charities and government.
He achieved his long-held dream of 'providing holistic care for individuals with diabetes and their families in Barbados' with the opening of the Barbados Diabetes Centre in 2014. This purpose-built, multidisciplinary centre for diabetic care, education and research was named after Maria Holder, a major benefactor of the charity Oscar founded. The centre has a permanent staff who provide care, advice and training in the management of patients with Type 1 and Type 2 Diabetes, its co-morbidities and related complications.
In retirement, Oscar played golf at the Westmorland and Sandy Lane clubs, played for Barbados in inter-island matches and participated in the Barbados Open Championship. He is survived by his wife Marsha, an Australian post graduate whom he met and married in Edinburgh, his three gifted children Julian, Claire and Alex and his four much loved grandchildren. He enriched the lives of his family and his many friends and colleagues in the Caribbean, USA and UK and was delighted to have attended the 50th anniversary celebration of his medical class in Edinburgh in 2015.
Dr C Christopher Smith
Professor Mike Ford