Designatory Letters:
MB Edin 1958, DPM Lond 1962, MRCP Edin 1963 Psych, MA Camb 1978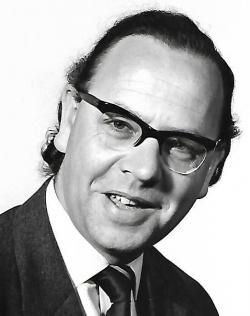 Ross Mitchell was a Consultant Psychiatrist at Fulbourn and Addenbrooke's Hospitals, Cambridge, for 30 years. He was born and educated in Edinburgh, attending the Royal High School and then Edinburgh University, where he qualified in 1958. His family home was in Regent Terrace where he grew up as the eldest of three children along with his sister, Margaret, who became a veterinary medical secretary and his brother Melville, a Health Inspector. His father, Robert, had a PhD in organic chemistry and his uncle, Philp was a surgeon, so his was a scientific family and that continued to the next generation.
As part of his medical course Ross elected to study at St Francis Hospital in Haywards Heath, as it was one of the hospitals furthest from his home in Edinburgh. When he arrived, he found that this hospital was in fact the mental hospital for the county of Sussex. So, his interest in psychiatry was born by an accident of geography.
Subsequently, he served as a military psychiatrist, including a period in the Far East, obtaining the Diploma in Psychological Medicine and Membership of the Royal College of Physicians of Edinburgh. He returned to Britain as Senior Registrar in Psychiatry at Barrow Hospital, Bristol. Ross moved to work in Cambridge in 1966, attracted by the pioneering work of David Clark. His career spanned the development of the famous therapeutic community at Fulbourn as well as the infant University Department of Psychiatry. During his career he undertook responsibility for most aspects of the clinical service, including drugs and alcohol and older people at various times.
Ross Mitchell was one of the first psychiatrists to enthusiastically embrace working with general practitioners and his work with GPs included establishing a Balint group at a health centre in Newmarket, and he ran a community-based clinic in the Fenland town of March for many years. He correctly perceived that GPs have a longer term relationship with their patients than psychiatrists generally do and so that by influencing GPs a psychiatrist could have more impact on a wide range of patients, without necessarily having to see all of them personally.
He was also well aware of the public interest in mental illness and psychiatry. He published numerous books, mainly for the lay public, that were translated in to other languages, including Drugs: The Parent's Dilemma, Depression, Schizophrenia: the Meanings of Madness, Phobias, Violence in the Family, as well as Psychological Medicine in Family Practice.
His other interests included group and other psychological therapies, notably collaboration with Ronald Speirs and the St Columba group therapy centre in Cambridge. He was also interested in public and international mental health and he was proud to have been invited to join a WHO working visit to Finland in the early 1980s. During an era when psychiatrists were largely based in large old hospitals, Ross seemed to relish time engaging with other audiences and advocating for his speciality. He was also a member of Magdalene College, Cambridge.
He was highly thought of by colleagues within and outside of psychiatry. He contributed to education and training for junior doctors at Fulbourn. His calm exterior and soft Edinburgh voice concealed a strong restless streak, though this trait probably enabled him to survive numerous changes of role during his career. In other respects, he was quite a private man, more willing to share others' troubles than his own. Following his retirement, he was active in the University of the Third Age, where he was a Director of Studies and wrote a history of the U3A in Cambridge. The talks he gave on a wide range of diverse topics, for instance Pictish history and the Romans in Britain, were very popular, so much so that larger rooms than normal had to be booked to accommodate everyone. He remained fascinated by his Scottish roots and published (1985) a collection of Rhymes and Verses of Edinburgh Town for which he drew his own illustrations.
His wife, Rhoda, died in 2006 and his son, Michael, in 2009. Despite these losses, he was an enthusiastic traveller to Scotland and around Europe, and he had only returned from a Rhine cruise two days before he died of ischaemic heart disease and dilated cardiomyopathy, at home, in his sleep. He is survived by his daughter, Nicola Clayton, and two grandsons.
Nicola Clayton and Tom Dening
May 2017