Specialty:
General Internal Medicine
Designatory Letters:
MB Glasg 1945, MRCP Edin 1951, MD Glasg 1956, FRCPSGlasg 1964, FRCP Lond 1977, Hon FACP 1987, FRCP Irel 1988, Hon FRACP 1988, FRSE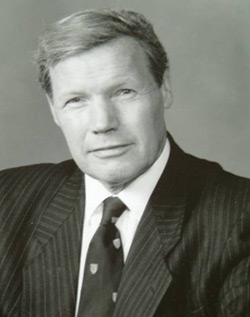 (Contributed by J McKillop)
Arthur Kennedy, widely known as ACK, will be remembered as a gifted clinician and teacher and a highly respected clinical academic and administrator. His major academic and clinical contributions were in renal medicine, where he was an early pioneer of dialysis.
Born the third of five sons of Thomas and Johanna Kennedy, ACK was educated at Whitehill School in Glasgow. He studied medicine at Glasgow University where he graduated with commendation in 1945. After a period of National Service with the RAF (he was particular proud that he had helped to build the runway on Barra), he held training posts in Glasgow and the West of Scotland. He initially trained in clinical haematology but in 1958 switched to renal medicine following the acquisition by Glasgow Royal Infirmary (GRI) of a rotating drum artificial kidney machine. ACK was appointed Senior Lecturer in Medicine at GRI and leader of the dialysis team in 1959.
Initially the dialysis machine was used for acute renal failure with dramatic results - mortality fell almost overnight from close to 100% to around 30%. Arthur led by example and was often to be seen in the unit late at night. He demanded high standards of himself and expected the same from his staff. His unit had an early research interest in dialysis disequilibrium and developed effective management for it. Over the next 20 years, ACK expanded the research and services of the unit to other areas such as chronic renal failure and renovascular disease. ACK was astute at recognising promising young doctors and in supporting them through their training. Nephrologists trained by him are to be found in many hospitals throughout the world. His eminence was recognised by his Presidency of the European Dialysis and Transplant Association from 1972-75. In 1969 he was awarded a personal chair by Glasgow University and in 1979 he was appointed to the Muirhead Chair of Medicine.
He retained his interest in general medicine and was widely sought for his clinical opinion. His comments in the notes were usually brief and always helpful. At the bedside he was an inspirational teacher and his clinical competence was combined with humanity and an understanding of the patient as a whole. He was unswerving in his promotion of ethical values and of excellence in clinical practice.
ACK had a considerable ability to recognise important details without forgetting the "big picture". His quiet and courteous but articulate style made him an effective committee member or chair. He was President of the Royal College of Physicians and Surgeons of Glasgow from 1986-88 and Chair of the Professional and Linguistic Assessment Board from 1987-89. Following his retiral in 1988, he was a member of the GMC from 1989-92 and President of the BMA from 1991-92.
He married Agnes (Nancy) Taylor in 1947 and they remained a devoted couple until his death sharing interests such as geology, history and art. He is survived by Nancy, by two daughters, a granddaughter and two great grandchildren. Their son died at a young age.