Designatory Letters:
MB Lond 1945, MD Lond 1951, FRCP Edin 1968, FRCP Lond 1970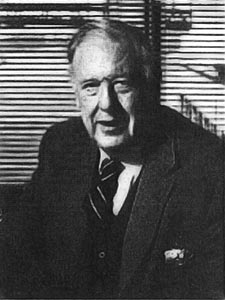 Alexander Bearn was a pioneer in the study of human genetics, his name always associated with Wilson's disease (hepatolenticular degeneration).
He was born in 1923 in Surrey, His father, Edward, was an under-secretary in the Ministry of Health. Alexander qualified at Guy's in 1945, gaining his doctorate in 1951. Thereafter he served as a medical officer in the RAF before going to the USA as a Fulbright Fellow, working at the Rockefeller Institute for Medical Research, New York, He focused on rare metabolic conditions and, inevitably, soon centred on Wilson's disease.
Between 1957 and 1964 he was an associate professor and physician at the Rockefeller Institute before becoming professor and senior physician there.. In 1957 he established the human genetics laboratory at the Institute.
In 1966 he was appointed Professor of Medicine at Cornell University and Chairman of the Department of Medicine at Cornell Medical School, Manhattan. In addition, between 1966 and 1977 he was chief physician at the New York Hospital (now the New York Presbyterian Hospital). Between 1977 and 1979 he was the Stanton Griffis Distinguished Professor of Medicine at Cornell, finally being appointed Professor of Medicine Emeritus. 1979 saw him moving into industry as a senior vice-president in the international division of the pharmaceutical company Merck, finally retiring in 1988.
He received many honours - elected president of the American Society of Human Genetics, membership of the American National Academy of Sciences, a Fellowship at Christ's College, Cambridge and, between 1997-2002 he headed the American Philosophical Society. He was awarded the Alfred Benzon Prize in Denmark, the Benjamin Franklin Medal and the David Rockefeller Award.
His fascination with history led to his writing three biographies of famous scientists. His love of opera and art he shared with his wife who, with their son and daughter, survive him.
An Appreciation: Alexander Gordon Bearn, A Renaissance Man of Medicine
It is just a year since Alick Bearn died, and now is a suitable time for remembering one of this College's most distinguished Fellows.
Alick was born, brought up and educated in the UK, but his professional career was in the USA and, as a result, he was less well-known to our profession in the UK than he should have been. However, he carried warm memories of his medical training at Guy's Hospital and of his work at Hammersmith Hospital. Indeed, he maintained lifelong friendships with many Hammersmith colleagues, including Fellows of this College such as Sir John McMichael, Dame Sheila Sherlock, Professsor Ken Lowe, Sir Christopher Booth, and Sir Keith Peters, a veritable roll call of leading British doctors.
He married and raised his family in the USA, but he and his wife, Margaret, maintained strong relations with this country. His feeling for his Scottish heritage was reflected in the home he and Margaret maintained in Crail for many years. Several obituaries in the USA and in the UK have chronicled his achievements and his career, which was both national and international, and my wish here is to add a personal recollection of, and reflection on, the man.
I arrived in New York in 1969, just 30 years old, to join the Gastroenterology Division of the Department of Medicine in New York Hospital–Cornell University Medical Centre (NYH–CUMC), now New York–Presbyterian Hospital/Weill Cornell Medical College. These were memorable years for me, and I remained there for three and a half years, first as a Fellow and later as an Assistant Professor of Medicine. Throughout that time, Alick Bearn was Professor of Medicine, Chairman of the Department of Medicine and Physician-in-Chief to New York Hospital.
My first recollection of Alick was from the Thursday morning Grand Rounds, which he chaired. Grand Rounds on this scale I had never experienced before (or since). A large lecture theatre, packed with medical house staff in crisp whites, attending physicians, many of whom had national and international reputations, well-rehearsed case presentations and discussions, and lectures, often by household names in medicine. Alick presided over all of this with a combination of firmness, fairness, humour and urbanity. In due course, as an Assistant Professor, I found myself leading the discussion on one of our Division's case presentations. My extensive preparation did nothing to prevent a sinking feeling as I rose to discuss the case, and I suspect I would have been "blown away" by the questioning if Alick had not curbed the talons of the hawks in the audience, leaving me to deal with the doves. He was the kind of man who would protect you as a junior faculty member, but who would not hide your ignorance. Grand Rounds at this level demanded standards, and Alick was quick to maintain them. On one occasion, all three faculty staff of the Gastroenterology Division were away from NYH–CUMC on a Thursday morning, and when Alick asked for a gastroenterological comment on the case of the day, there was a deafening silence. Thankfully we were all away on University business, but even so Alick's "request" that we be better organised in future was firm . . . and icy!
Many eminent scientists and physicians visited NYH–CUMC, and it could easily have been that junior faculty never encountered these visitors away from their formal lectures. However, Alick would invite faculty members sharing a visitor's area of special interest to a buffet lunch in the Department of Medicine after occasions such as Grand Rounds. In this way, I was able to meet several well-known medical specialists I would never have met otherwise. In addition, Alick and Margaret were generous hosts in their own home, and their social occasions provided further opportunities to meet well-known visitors. I recollect one occasion when Sheila Sherlock was visiting and a Cornell medical student who was a talented pianist was providing background music. Sheila asked the student to play a tune he did not know, but he just told her to hum it and then he played it for her. I discovered a new path to a medical career when Sheila then suggested to the student that he might like to study medicine in London at some time in the future! Later in Margaret's and Alick's lives, I had opportunities to enjoy their company and hospitality when they visited their home in Crail. Increasing age may have changed us all, but Alick remained the warm, outgoing, humorous and knowledgeable friend that he had always been.
During my time in New York, my specialty interest shifted from gastrointestinal disease to liver disease, and as my knowledge of liver disease increased, I came to realise more the major contributions Alick had made in this area. These achievements have been detailed in several obituaries elsewhere but, in short, his most outstanding contribution was to show that Wilson's disease is a metabolic disorder inherited as an autosomal recessive and that it could be diagnosed by showing that ceruloplasmin was diminished or absent in the blood. He was one of the "big four" of Wilson's disease (Bearn,Scheinberg, Sternlieb and Walshe), and he bore his eminence lightly. He also made contributions to understanding several other metabolic diseases.
Alick's interests extended well beyond medical research and medical education and, indeed, well beyond medicine. In an age of increasing medical specialisation, he was something of a Renaissance man, and his interests beyond medicine included writing, travel, art, music (particularly opera) and aristology (the art and science of cooking and dining). There could be no better example of his achievements and his wide interests than his membership of the American Philosophical Society, of which he was Executive Officer and Vice-President. This society was founded in 1743 by Benjamin Franklin to promote "useful knowledge in the sciences and humanities", and its membership has included many of the finest minds in America and in other countries. One of his wider interests was writing, and he produced biographies of three great British medical academics: Sir Archibald Garrod, the founder of biochemical genetics; Sir Clifford Allbutt, the inventor of the clinical thermometer; and Sir Francis Fraser, a Fellow of this College, who shaped British medical education and training after the Second World War. Alick must have felt a strong fellow feeling with Sir Francis as he wrote of Francis Fraser's view that "Medicine is not technology" and that the then British Postgraduate Medical Federation he led aimed to provide doctors "with what they want in addition to what we think they need – experience of human beings". Alick's life reminds us of the value of a wide appreciation of human knowledge and culture for individual physicians, for their patients, and for our reputation as a learned profession.
Alick Bearn was one of our College's most distinguished Fellows. He was an important medical scientist whose contributions will be remembered, a man interested in a wide spectrum of human knowledge and culture, and a warm and hospitable individual. It is appropriate that we remember him a year after his death.
Niall DC Finlayson