Specialty:
General Internal Medicine
Designatory Letters:
MB Glasg 1938, FRFPS Glasg 1941, MRCP Edin 1942, MD Glasg 1945, FRCP Edin 1951, FRCP Lond 1970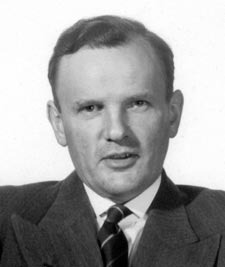 (Contributed by Dr Peter Semple)
Matriculating at Glasgow University at 16, Tommy qualified BSc then later MBChB (1938) and MD (1945).
Early posts were in the Victoria Infirmary and Hairmyres. From 1942 he served in the Gold Coast (Ghana) and later Bangalore and Poona, achieving the rank of Lieutenant Colonel.
In 1947 he was appointed Consultant Physician to Hairmyres and the Victoria initially specialising in respiratory diseases. Anticipating a decline in tuberculosis and with extraordinary foresight predicting no cures for lung cancer, he concentrated on cardiology.
Tommy and colleagues in 1963 were the first in UK to present and publish results of successful cardiac resuscitation.
He chaired UK and International Society of Cardiology working parties on coronary disease prevention and rehabilitation. This expertise clearly served him well. After his MI aged 52 an altered lifestyle involved daily special exercises and remarkably he lived for a further 40 years.
He published and travelled extensively, and served on Council of British Cardiac Society and was founder Secretary (1959), then President (1975) of the Scottish Society of Physicians.
Tommy enjoyed country pursuits, golf, gardening and bridge, continuing into retirement with his wife Betty. Predeceased by Betty, Tommy is survived by four sons (two of whom FRCPEd) and their families.