Specialty:
Geriatric Medicine/General Practice
Designatory Letters:
MB Edin 1944, MD Edin 1973, DSc Edin 1982, FRCP Edin 1979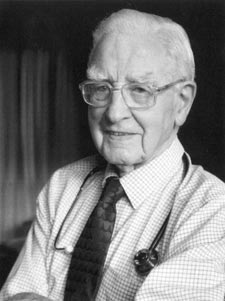 (Contributed by Professor J Williamson)
Ian Milne was born in the Falkland islands where his father was a member of the colonial staff.
He grew up in Edinburgh where he attended the Academy and graduated MB, ChB in 1944. He was awarded several prizes and awards both at the Academy and University. After house posts at the Western General Hospital he was assistant to Dr Angus Walker, a GP in Leith. Ian always praised Dr Walker's diagnostic skills and said this was an important part of his training.
He then became a principal in a General Practice based in Ormiston, East Lothian (1946-66). Here he built up a remarkable service to the local community, including a laboratory for haematological and other tests. The standard of General Practice was extremely high and even today some patients and families remember him with great admiration.
He developed close links with local services and hospitals in Edinburgh. In particular he attended the weekly clinical meetings at the Eastern General Hospital where Dr Ted French provided extraordinary clinical teaching.
He participated in research into thyroid enlargement and also into unreported illness in older people. These activities gave him an interest in epidemiology and in 1967 he was appointed Research Fellow in the new unit at Royal Victoria Hospital, Edinburgh. Here he studied the condition of a random sample of persons over the age of 63 with detailed annual assessments of their clinical condition. He developed meticulous methods of measuring their medical states.
During this period he gained the degree of MD in 1973 and published 46 articles in reputable medical journals. In 1982 this resulted in the award of a DSc. Degree, a most unusual achievement for someone not in a specialist academic appointment.
He then spent some time as assistant to Dr R Robinson at the Psychogeriatric Unit at Royal Victoria Hospital. In 1976 he was appointed consultant in Geriatric Medicine in East Lothian based at East Fortune Hospital. Here he provided excellent services using his skills and knowledge of the East Lothian situation acquired in his time as a GP.
After retirement from the NHS he became Research Fellow at the Department of Geriatric Medicine. Here he studied the optimal management of old people who developed acute illness with a view to providing extra domiciliary care as an alternative to hospital admission.
During all these years of clinical and research activity he developed a deep interest in literature, especially the works of Samuel Johnson and Dr Boswall. He acquired copies of some early editions which have been presented to the College Library.
He and his wife Eliza were extremely successful in arranging gatherings of friends and colleagues and many have happy memories of these occasions.
People who knew Ian well came to regard him as an outstanding physician and researcher of the late twentieth century.