Designatory Letters:
MB Glasg 1958, MRCP Edin (Geriatrics) 1963, DPM Ncle 1965, FRCP Can 1981, FRCP Edin 1982, FRCPsych 1983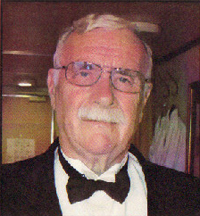 (Information generously supplied by Dr Helen P. Duffy)
Born in Renfrew near Glasgow, Scotland he served as a National Serviceman in the Royal Electrical and Mechanical Engineers 1948 – 1951 before spending one year as a medical orderly in a Neurosurgery unit.
In 1951 he entered Glasgow University, working as a bus driver at weekends, graduating in 1958 having married Helen three years before. Between 1963 and 1968 he worked as Registrar then Senior registrar in Psychiatry in Newcastle - upon-Tyne, then emigrated to Canada to practice Psychiatry in Yorkton and Regina, Saskatchewan.
His career as a psychiatrist saw him appointed Director of the UBC Psychiatric unit in Riverview Hospital, then Director of the Forensic Psychiatry unit in the same hospital, then designer of the Forensic Psychiatry services for the province of British Columbia. He entered private practice in Vancouver in 1983 then, six years later moved to Abbotsford and worked in Fraser Valley mental health units. The five years leading up to his retirement in 1999saw him working in Psychogeriatric Services.
An internationally acknowledged expert on Forensic Psychiatry he studied and reported on facilities in England, Denmark, Sweden and Holland and had papers published on the management of aggressive and violent behaviour, and sleep patterns in patients who had taken Mandrax and Tuinal.
In 2000 he drove across Canada from West to East to visit the Maritimes then drove back home across the USA. The following year he drove to Alaska and back.
His hobbies and interests were many and varied, ranging from making model planes to flying real ones (he had a private pilot's licence), photography (building up a remarkable library of more than 138,000 photos and slides, to the study of history, Scottish culture and music and, last but certainly not least, prison visiting.