Designatory Letters:
BSc Belf 1944, MB Belf 1953, MD Belf 1958, MRCP Edin 1962, FRCP Edin 1971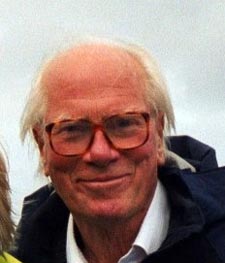 (Contributed by Professor Robert Stout, FRCP Edin.)
Dr Campbell Ball, formerly Consultant in Geriatric Medicine in Belfast City, Musgrave Park and Lagan Valley Hospitals was born on 18 January 1924. Leaving school, the Royal Belfast Academical Institution, during the Second World War, he took a degree in engineering in Queen's University, Belfast before joining the Royal Air Force as a commissioned officer and was posted to the Far East. Later, using the opportunities available to ex-service people, he returned to Queen's to study medicine. He qualified in 1953, and undertook postgraduate training in medicine, obtaining his doctorate in 1958 and his MRCP(Edinburgh) in 1962. He was elected FRCP(Edinburgh) in 1971. He decided on a career in geriatric medicine and in 1964 was appointed a consultant in the Belfast City Hospital, also having beds in Musgrave Park Hospital, Belfast and Lagan Valley Hospital, Lisburn. During his time in Musgrave Park, he was able to replace Nissen hutted wards with a purpose built unit, and in Lagan Valley he also opened a new unit, replacing a Victorian hospital. In the clinical system that operated then, he was responsible for the care of older patients, including home assessment visits, in a catchment area which covered West Belfast and which included some of the most troubled parts of Northern Ireland.
Campbell Ball was a warm and friendly person who was popular with colleagues and patients. He was a careful and conscientious physician and also undertook medical management duties as both Chairman of the Division of Medicine and Chairman of the Medical Executive Committee of the Belfast City Hospital. He gave valuable support to the new University Department of Geriatric Medicine and regularly taught students in his wards. He retired in 1984.
He was a multi talented person. He had an interest in all things mechanical, and there were few devices that he did not think he could improve. In one of his wards, he constructed a bath that could be filled very rapidly to avoid patients having to wait in the cold. He was deeply interested in the arts and in his retirement he took piano lessons. He was a keen sailor and developed a passion for astronomy. Of all his interests, he spoke most fondly of the home he built on Inishbofin, a small island seven miles off the west coast of county Galway, one of the most westerly parts of Europe. Built on high ground it has wonderful views of the harbour, Cromwell's Castle and, across the sea, Connemara. His staff remember some Monday mornings when a message would be received from the local Post Office that Dr Ball would be delayed until the storm had abated and he could get off the island.
Campbell Ball died on 22 December 2008. He is survived by his wife, Hilda, his sons Barnaby and Jonathan and his grandson Christopher.