Specialty:
Medical Microbiology/Bacteriology/Virology
Designatory Letters:
MB Edin1945, BSc Edin 1946, MD Edin 1959, FRCP Edin 1966, FRCPath 1971, FFCM 1975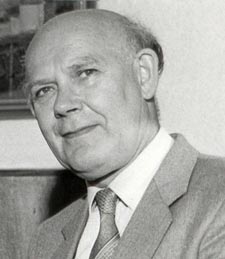 (Contributed by Dr Ian M. Gould, Consultant Microbiologist, Aberdeen Royal Infirmary)
James Cameron Gould, known as Cam to friends and family was an eminent clinician, bacteriologist and scientist. Elder of two sons of Edinburgh dental surgeon, James Gould, he was born in 1923 and educated at George Watson's College and Edinburgh University where he graduated B.Sc. in pure science in 1944, doing very early work on the production of penicillin. One anecdote from this period tells of Cam being hauled before T.J. MacKay, Head of Department, for including classified information on penicillin production in his thesis. Cam always maintained that he had legitimately obtained this information from the library! He qualified M.B.Ch.B. 1945, B.Sc. first class honours 1946. His M.D. thesis (with commendation) in 1959 was on the epidemiology and antibiotic resistance of Staphylococcus aureus, still a very topical subject. After marrying Margaret Billett in 1946, an Edinburgh Royal Infirmary trained nurse (or Pelican as they were affectionately known at the time), Cam volunteered for the Royal Army Medical Corps. The 2 years he spent in the Far East saw him rising to Pathologist in Charge, British Military Hospitals, Hong Kong and Malaya. Here Cam showed an early talent for organisational capability and clinical consulting that would characterise his career. He returned to Edinburgh in 1948 to see his first son Jim, born the previous year, and to take up a clinical appointment with Sir Stanley Davidson before joining the University Clinical Bacteriology department as lecturer and then senior lecturer. There, he worked with Prof. R. Cruickshank and was one of the first to develop methods of antibiotic susceptibility testing for the diagnostic laboratory using agar disc diffusion. These are still in routine use today. He was the first to demonstrate antibiotic contamination of the ward environment, a significant part of the complex epidemiology of antibiotic resistance. This work led to a report in Time magazine in 1958.
From 1961 until his retiral he was Director of the Central Microbiological Laboratories at the Western General Hospital which served the whole of S.E. Scotland with a clinical service. During this time he established an international reputation for developing the new field of consulting clinical microbiology with a particular interest in antibiotic policies and stewardship. Again, this area of work is particularly relevant today as we battle with increasing antibiotic resistance and a shrinking supply of effective antibiotics. He was also an enthusiastic and capable administrator, chairing numerous hospital, divisional and area committees and represented the Consultant and Specialist Committee on Lothian Health Board from1966-1979 to which he was also scientific advisor (1974-87). At a national level he chaired many working parties for the Scottish Home and Health Department and was Chairman of the Scottish Branch of the B.S.S.I. (1976-79). He was a council member of the Royal Society of Edinburgh (1977-81) and Programme Convener (1983-88).
In recognition of his many scientific achievements and publications he was elected Fellow of the Royal Physical Society 1956, the Royal Society of Edinburgh 1964 and the Royal Institute of Biology 1966. He served as Treasurer of the Edinburgh Royal College of Physicians and was elected a fellow in 1966. He was a founding member and then fellow of the Royal College of Pathologists. He represented the Royal College of Pathologists on European Training Committees and was a longstanding member of the Medicines Commission. He served on many national and international committees including early W.H.O. and European commissions on food safety and irradiation.
After a long fight with prostate cancer he passed away from acute myeloid leukaemia on the 8th of July 2008, in his 86th. year. He is survived by his 2 sons Jim and Ian and daughter Anne, all of whom are doctors and by 9 grandchildren. Margaret died almost 10 years ago after over 50 years of happy and close marriage.
Cam was never more relaxed than behind the wheel of a car and was well known in rally circles and also for his long European tours, to many of which his family was subjected! In his last years he was ably supported by a wide body of friends and by Yveta Krupova, a nurse from Slovakia, who is currently studying medicine in Edinburgh. He will be remembered as a highly intelligent and energetic innovator who enjoyed life to the full and was able to hold a sustained and coherent argument on almost any subject!