Specialty:
Paediatrics/Community Child Health
Designatory Letters:
BCom Auckland 1940, MB Otago 1952, DCH Lond 1959, MRCP Edin 1960, FRCP Edin 1971, MRACP 1971, FRACP 1975, MNZCCM 1980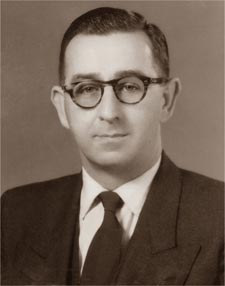 The death has occurred in Auckland of Dr Des Woods aged 91. For fifteen years, 1960-75, he was the only consultant paediatrician in private practice in the Manawatu. He was also the senior consultant neonatologist at the Palmerston North Public Hospital's premature baby unit, the director of the Manawatu Child Health Clinic and voluntary medical adviser to many societies supporting children in the community. His last appointment was as the Medical Superintendent of the Mangere Hospital and Training School for intellectually handicapped children, 1975 – 1994.
Born in Waihi, in 1917 he was educated at Thames High School and at Auckland University where he studied accountancy part time while working as a clerk in the Public Works Department. He had wanted to study medicine since childhood but in the last years of the depression that was not possible without private means. In 1940 he volunteered for the army took his final exams in Cairo. He succeeded in getting himself transferred out of a safe rear area job in the Pay Corps and into the 21st Battalion where he saw action as an infantryman throughout the North African campaign including at the Battle of Alamein and in Tunisia. He then went with his battalion into Italy. Early in the night battle at the Sangro River his platoon officer was killed and as the platoon sergeant he took command and led an attack into heavily defended enemy positions. He was subsequently offered as recognition a choice between a Military Medal for conspicuous bravery or a commission at the Royal Military College, Sandhurst in England. He took the offer of a commission and was undergoing officer training during the months when the New Zealand division took heavy casualties at the battles below Monte Casino.
In London on weekend leave in 1944 he met a young English industrial welfare officer, Frances Sherwood, to whom he became engaged. He returned to Italy, to General Bernard Freyberg's HQ, where as a junior staff officer he was also a motor cycle dispatch rider. In early 1945 he was blown up and severely concussed by German shellfire and as a result was left with a ringing tinnitus in his ears which never left him. He recovered and when the war ended he was appointed, at his request, to the New Zealand prisoner of war repatriation centre in England where all New Zealander servicemen held in German prison camps were documented, treated and prepared for their return home. Many had been prisoners for four years or more and needed care and understanding. One of the ex POWs being repatriated was Captain Charles Upham, VC and Bar, who was present when Des and Frances were married on the day that Japan surrendered.
The Government offered the opportunity to ex- servicemen to return to full time study on a slender rehabilitation serviceman's bursary. Des succeeded in passing the competitive entrance exams in science and chemistry and entered Otago Medical School in 1947, graduating with distinction in 1952 and doing his house surgeon years at Dannevirke Hospital.
In 1955 he joined the RNZN as a Surgeon Lieutenant on a three year commission so that he might spend then time overseas specializing in Paediatrics. The following year saw him operating at sea on sailors as the Medical Officer of the frigate HMNZS Kaniere on duty in the South China Sea. His decision to become a paediatrician meant that he and his family spent two years in Edinburgh where he completed his post graduate training in child health. His particular skill lay in the early diagnosis and treatment of rare syndromes in children and in detecting inborn errors or metabolism in new born babies.
During his years of work in Palmerston North's premature baby unit he examined most of the Manawatu's newborn infants each week. He also and saved the lives and mental ability of many babies them through his painstaking multiple exchange transfusions of those with an RH incompatibility with their mother's blood. With Frances as his receptionist he entered private practice where he became the point of paediatric referral for GPs from Taihape to Levin and from Napier to Wanganui.
On becoming Superintendant of the Mangere Training School in 1976 he introduced new skills and innovative training regimes. This world class training enabled many intellectually and physically handicapped young people to live safely and productively in the general community. He also ensured that Mangere offered respite care to allow parents short breaks from the daily needs of their children. In 1985 he was made Commander of the British Empire, CBE, for his services to New Zealand's children, an honour he received from the Queen. He was also made a life member of the Paediatric Society of New Zealand by his fellow paediatricians. Des and Frances retired to Devonport where he continued part time work at the naval hospital, with the RNZAF and with the Auckland blood bank. Frances died in 1992.
Des is survived by his five children and eleven grandchildren.