Specialty:
General Internal Medicine
Designatory Letters:
MB Edin 1956, MRCP Edin 1960 Endoc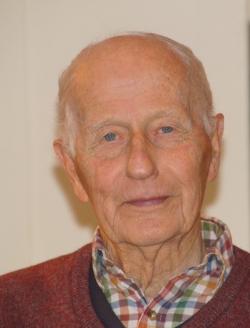 Dr Jim Waddell was a Consultant Physician in Swindon with responsibility for Acute Medicine and Intensive Care. When he first moved to Swindon in 1968 the hospital building was a large well designed Accident and Emergency Department, while at the same time there was a marked shift in the caseload from trauma to non-trauma, much of it being complex and life-threatening. Most staff at that time were unsupervised surgical trainees and there were few if any "Casualty" consultants.
Being aware that the medical staffing in his local department was inadequate in numbers, in training and in supervision he wrote to the Royal College of Physicians of London seeking guidance and leadership, and was invited to the college to address the Council where he was asked to negotiate with representatives of the Royal College of Surgeons to create a new Consultant-lead speciality, Accident and Emergency Medicine.
As well as getting the approval of other specialities, The Department of Health had to give their approval and the team had to appear before The House of Commons Select Committee on Health. Approval was given for a trial of twenty-one consultant posts in the new speciality distributed on a first come first served basis in 1969.
It became obvious to the team that the new speciality would require its own College to supervise standards of training and appointments and a speciality examination, but that would have to wait until there were a sufficient number of Consultants to take over the task. In the meantime a Speciality Advisory Committee had to be created and Dr Waddell served as its secretary for five years.
He worked closely with the Royal Colleges of Physicians in his home town of Edinburgh and in London where he held many senior roles in training and examining.
As a single-handed chest physician he became specialised in the asbestos-related disease from the local Great Western Railway train building works and also in asthma, latterly becoming the secretary of the national Asthma Association.
In retirement he enjoyed high-altitude trekking, gardening and entertaining until pulmonary fibrosis and deafness slowed him down. He leaves his wife, Deirdre, three children and eight grandchildren.