Designatory Letters:
MB Edin 1945, MD Edin 1946, MRCP Edin 1948, FRCP Edin 1960, FRCP Lond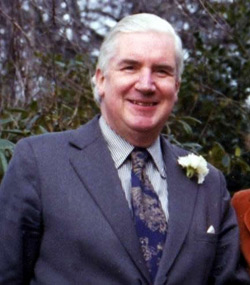 (Contributed by A Lambie, A Doig and R Winney)
James Scott Robson, Emeritus Professor of Medicine at Edinburgh University, died on March 14th 2010 at the age of 88. He was a distinguished physician and clinical scientist whose achievements resulted from his outstanding abilities as a clinician, research worker, teacher and administrator.
Educated at Hawick High School, he came to Edinburgh to study medicine at the outbreak of war in 1939. Three years later he was awarded a prestigious Rockefeller Foundation Studentship and sailed to America to complete his medical training; the ship was torpedoed off the Canadian coast and he was one of the survivors. He became a student at New York University Medical School, where he completed his medical course and in 1944 graduated MD. Thereafter he worked for a brief period in the wards and laboratories of Bellevue Hospital where he was introduced to clinical research and this experience strongly influenced the direction of his future medical career. He subsequently completed his medical studies in Edinburgh and was awarded the degrees of MB ChB with Honours in 1945, and MD with commendation 18 months later for his thesis on the causal factors of fluid retention in chronic liver disease. From 1945-1948 he served as a Captain with the RAMC in India, Palestine and Egypt.
Following demobilisation he worked for a few months in Edinburgh Royal Infirmary Clinical Chemistry Laboratories with Dr C. P. Stewart. From then until Dr Stewart retired, they collaborated on the investigation of metabolic problems and the training of PhD students. In 1949 he was awarded a Rockefeller Travelling Fellowship, which he held in the Department of Nutrition and Biochemistry at Harvard. In 1962 he returned to Harvard for a brief period as an Honorary Associate Professor.
During the 1950s, while a senior registrar in Sir Stanley Davidson's professorial medical wards, he carried out research with C.P. Stewart and others including Anne Lambie and Hugh Dudley into the renal concentrating mechanism, measurement of glomerular filtration rate and renal plasma flow, and the conservative management of patients with advanced renal failure.
In association with his wife, Dr Mary MacDonald, a pathologist, he established Edinburgh's renal biopsy service. Examination by light, immunofluorescence and electron microscopy of the tiny samples of tissue resulted in increased diagnostic accuracy and revealed previously unrecognised forms of kidney disease, which responded to different forms of treatment. As a result of their experience in this field, Dr. Robson and Dr. MacDonald played an important role in the establishment of MRC trials in the treatment of glomerulonephritis.
In 1958 dialysis was beginning to be used in the treatment of acute renal failure and James Robson and his surgical colleague, Hugh Dudley, were asked to organise an Acute Renal Failure Service in Edinburgh's Royal Infirmary. The service, which started in 1959, was one of the first in Britain and called for unprecedented collaboration among the medical, nursing and laboratory services. It resulted in an immediate 50% reduction in mortality from acute renal failure and paved the way for the first successful kidney transplant operation in the UK, which was performed in 1960 by Professor Sir Michael Woodruff. Initially, transplantation was carried out in the Royal Infirmary and Dr Robson played an important part in the pre and post operative care of the patients.
In 1964, chronic intermittent dialysis for patients with end stage renal failure was established. Between 1969 and 1971 an outbreak of viral hepatitis in the unit resulted in a number of deaths among patients and staff. Investigation by Professor Marmion and Dr Tonkin of the Bacteriology Department, led to the discovery of the means of spread, thus enabling Dr Robson and his two expert colleagues to devise a code of practice for dialysis units, designed to prevent further outbreaks. Their recommendations largely formed the basis of those made in the later report of the Government's advisory group, chaired by Lord Rosenheim, on 'Hepatitis and the Treatment ofChronic Renal Failure' and adherence to the practices advocated has resulted in the disappearance of epidemics of viral hepatitis from intermittent dialysis units.
Despite heavy clinical and teaching commitments, Dr Robson continued to initiate and supervise research in a variety of fields including dialysis disequilibrium, disturbances of acid-base balance, glomerulonephritis and hospital infection. He was a superb bedside teacher, an excellent lecturer and a gifted writer. His contribution to Davidson's Principles and Practice of Medicine on disturbances of water and electrolyte balance was said by many to be the best short account of a subject which most students find difficult.
In association with Reg Passmore he became Editor-in-Chief of A Companion to Medical Studies. This comprehensive ground breaking work succeeded in giving undergraduate and graduate students an interesting, exciting account of modern medicine and clinical sciences. This task was completed in three weighty volumes in 1968, 1970 and 1974. These sold in large numbers throughout the world until the 1980s when, in common with other large multi-volume text books, its sales declined.
Dr Robson became Reader in Therapeutics in 1961, Reader in Medicine in 1969, and Professor of Medicine in 1977. During the tenure of these posts he, with Professor Henry Walton, played a leading role in the revision and modernisation of the Edinburgh University Undergraduate Medical Curriculum.
He also made a significant contribution to postgraduate education and training. James Robson's main contribution to the Royal Colleges of Physicians in Edinburgh, Glasgow and London was that of an examiner of candidates for the membership diploma (MRCP UK) of the Colleges. According to several of his co-examiners his questioning of candidates brought to their attention for the first time some recent advance in internal medicine. In 1961 Dr. Robson delivered the endowed Sydney Watson Smith lecture on renal disease. Most of his excellent postgraduate teaching occurred in courses organised by the Edinburgh Postgraduate Board for Medicine.
The renal unit attracted able young men and women who were trained by James Robson in clinical practice and research methods. Many consultants in British renal units had trained under him and some became professors of nephrology. He served on several national advisory committees, was President of the Renal Association (1977-80), and was the Merck Sharp and Dohme Visiting Professor in Australia in 1968. His writings on his special interests in medicine and science continued after his retiral in 1986 as he was appointed as a contributor and advisor to the New Encyclopaedia Britannica.
He was an enthusiastic gardener and enjoyed literature, theatre and contemporary art. Always being well informed on politics and current affairs, James Robson's opinions on these matters invariably attracted attention.
Over the last few years his health deteriorated and he was unable to walk. With the devoted attention of his wife and community support he was, however, able to stay at home. James Robson died quietly at home following a period of hospitalisation. He is survived by his wife, Mary MacDonald, and two sons, one a doctor.