Specialty:
General Internal Medicine
Designatory Letters:
BA 1936, MB Dublin 1937, MRCP Edin 1954, FRCP Edin 1957, MD Dublin 1967, MA 1967, CBE 1978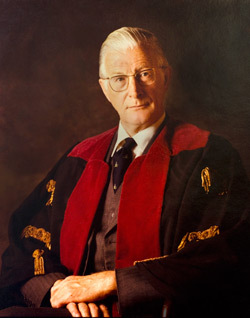 (Contributed by Anthony Toft FRCP Edin)
John Strong was a giant of a man not only physically, a feature vividly illustrated by the College portrait by Paul McPhail, but also because of his contribution to medicine in the broadest sense. Like so many of his contemporaries who saw active service in the Second World War he made an enormous contribution to the fledgling National Health Service by providing medical wisdom beyond his years, a sense of purpose and a devotion to duty which has never been replicated by subsequent generations of medical graduates. Professor Strong and his ilk, partly because of their wartime experiences in theatres far from home about which they rarely talked, were always able to see the bigger picture and had no time for the petty disagreements and jockeying for position and prestige which often bedevilled teaching hospitals. He was born in Kells, Co. Meath in 1915, received his schooling in Bath, before studying medicine at Trinity College, Dublin and graduating in 1937. In 1939, with war clouds looming and the future uncertain he married Moira Heaney, the daughter of a Liverpool surgeon. As he held his pilot's licence it would have seemed appropriate to join the Royal Air Force but it was oversubscribed and he saw service in India and Burma with the Royal Army Medical Corps, reaching the rank of Lieutenant-Colonel, having been mentioned in dispatches and receiving a military MBE. On demobilisation he continued his training at the then West London Hospital in Hammersmith Road before being appointed Senior Lecturer and Honorary Consultant Physician at the Western General Hospital, Edinburgh by Sir Stanley Davidson.
John Strong was to develop the young specialty of endocrinology at a time when treatment of hyperthyroidism with antithyroid drugs and iodine-131 was in its infancy. He quickly realised that the then complex biochemical investigations requiring accurate 24-hour collections of urine and blood testing at specific times could not be adequately performed in busy general medical wards. He set up the Metabolic Unit which allowed a dedicated team to ensure that the panoply of tests which many of these patients required was successfully completed. He had vast experience of the diagnosis and treatment of acromegaly and Cushing's syndrome, and saw the need for the development of a department of nuclear medicine to utilise the benefits of radioisotopes both for investigation and treatment. He published widely and was one of the few physicians who could boast of a paper in the prestigious journal, Nature, demonstrating the chromosomal abnormalities in Klinefelter's syndrome, the commonest cause of male hypogonadism. He was awarded a personal chair in medicine in 1966. He also had the vision to realise that patients with diabetes would be more effectively managed in a specific clinic and made the inspired appointment of Joyce Baird with that remit.
Professor Strong was to serve the College as Vice President from 1976 to 1978 and as President for the ensuing three years. He was quite outstanding in that role, whether representing the College at home or abroad, and always supported very effectively by his wife, Moira. He masterminded the College Tercentenary in 1981  It was as a result of the lack of accommodation within the College for holding many of the events which led him to initiate the project to build a new lecture theatre which is still the envy of many similar institutions……301 seats with near-perfect acoustics and sufficient space between the rows to come and go without disturbing one's neighbour. Many would have baulked at the thought of having to organise such a major undertaking but John Strong, ably assisted by Professor (later Sir) John Crofton and Dr Iain Campbell, seemed to have little difficulty in persuading planners and benefactors of the absolute necessity of a new lecture theatre if the College were to fulfil its role of maintaining standards in medicine by continuing education of its Fellows and Members. Anxieties about meeting the cost of the theatre were considerably eased when the Librarian came across a long-forgotten portrait of a former President, James Morrison, by Richard Dadd which was purchased by the Scottish National Portrait Gallery, but not before a heated debate at an Extraordinary General Meeting of the College about the wisdom of parting with College treasures. Interestingly, portraits of College Presidents had not been painted for some time before Dr John Munro revived the custom in 1994, and commissioned relatively unknown artists to paint those past Presidents who were still alive. John Strong's was on a large canvas and of his head alone, slightly tilted backwards, giving the viewer the impression of looking up to him which, of course, is how the vertically challenged and even those of average height came to see him. He was tickled pink when it was unveiled.
 A slightly forbidding figure when I was a young trainee endocrinologist at the Royal Infirmary, I came to realise, when Chairman of the Collegiate Members' Committee, that John Strong was an utterly charming and generous individual of the highest integrity: a true gentleman. That opinion was to be reinforced time and time again when, as former Presidents, we were to meet over lunch in the College two or three times each year to put the world to rights, although no longer to identify the next President.
He was appointed CBE in 1978 for services to medicine, was a Fellow of the Royal Society of Edinburgh and was awarded honorary Fellowships by several sister colleges in the UK and overseas but, for John Strong, the greatest of these were the rarely gifted honorary Fellowship of his own College and that of his alma mater, Trinity College, Dublin.
In retirement he was able to indulge his pastimes of fishing, stalking, golf and the study of natural history. Moira predeceased him in 1997, and he is survived by their son, Anthony, a retired neurosurgeon, daughters Elizabeth, an antiquarian bookseller in Edinburgh, and Jane, and their extended families.