Designatory Letters:
MB Adelaide 1963, MD Adelaide 1973, FRACP 1966, FRCP Edin 1988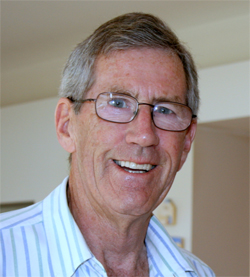 [Contributed by his friend and colleague Dr Randall Faull ]
The distinguished South Australian physician, sportsman and humanitarian Professor Anthony (Tony) Clarkson, died on January 25, 2011, of complications from acute myeloid leukaemia.
Tony studied medicine at the University of Adelaide. A very able student, he combined study with a highly successful sporting career. His initial postgraduate training was at The Queen Elizabeth Hospital in Adelaide, where he came under the influence of prominent members of the Adelaide medical fraternity, including Jim Lawrence. Jim successfully lured him into training in the relatively new specialty of nephrology. During this time he also became a legendary figure for the powerful Adelaide University football team (The Blacks), followed by becoming an integral part of the famous multiple premiership-winning Sturt Football Club in the 1960s. Less well known is his success for the Adelaide University cricket team, for whom (by his own description) he was a fearsome opening bowler and an excellent tail end batsman.
Following a Churchill fellowship and 4 years in Edinburgh and London, he was appointed the inaugural Director of the Renal Unit at the Royal Adelaide Hospital in 1973, a position he held until 1998. He retired from full-time practice in 2003. Amongst his many contributions to nephrology were his time on the council of the Australian and New Zealand Society of Nephrology (ANZSN) including serving as society president from 1980 to 1982, and the International Society of Nephrology council from 1997 to 2005. Tony had a major role in the evolution of nephrological education programmes for developing countries, and was much valued in active teaching and planning participation, notably in South-East Asia and particularly in Myanmar. He was elected a life member of ANZSN in 2003, and also was appointed a member of the Order of Australia (AM) for his services to nephrology and the community.
He was a member of the Medical Board of South Australia from 1989 until 2005, serving as President from 1997 to 2005.
This brief summary, though, does not do sufficient credit to Tony's contributions to medicine and society in this country and around the world. An outstanding clinician, he was a legendary figure in medical circles, with his skill, wit, insight, gregariousness, and inviting and friendly disposition. He took a personal interest in mentoring young nephrologists, and was a great teacher of students and physician trainees. Perhaps though, the most out of the ordinary impression that Tony left was his treatment of all around him as equals. It didn't matter if the person was the Minister of Health of a large country, a specialist colleague, a young medical student, a nurse on the renal unit, or the hospital cleaning lady, he always had a kind word and a smile. He was a dedicated family man, a loyal friend, a keen fisherman and a consumer of fine wine.
Many doctors in South Australia have benefited from Tony's leadership, guidance, and friendship, and he will be greatly missed.